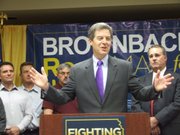 Wichita — Gov. Sam Brownback vowed Monday that if he is re-elected, he will make battling the federal government on issues such as environmental regulation, health care and gun rights a major focus of his second term.
"Man is not free unless government is limited," Brownback said, quoting a famous 1964 speech by Ronald Reagan. "You can't have a government taking everything from everybody all the time."
Speaking to a few dozen people gathered at the Wichita Area Builders Association, Brownback, who is facing a strong challenge from Democrat Paul Davis, of Lawrence, outlined seven areas where he said the federal government – and the Obama administration in particular – had infringed on states' rights.
Chief among those, he said, are new clean air standards that limit emissions from power plants, which he said were adding $227 million a year to customer utility accounts.
"These are on people, in a lot of cases they can't afford the utility bill they've got," Brownback said. "And now you've raised it because of an increased regulatory atmosphere."
Campaign officials weren't immediately able to identify the source of the $227 million cost figure. In July, the Kansas Corporation Commission approved an $11.5 million rate increase for Kansas City Power and Light. And in November 2013, it approved a $31.7 million rate hike for Topeka-based Westar Energy.
Both rate increases were to cover the capital cost of upgrading the LaCygne generating plant, which the two companies jointly own.
Brownback also vowed to continue fighting implementation of the Affordable Care Act in Kansas, including any expansion of Medicaid.
"Obamacare is not working. It's not going to work. It has been harmful, and we don't need to see that expansion taking place in the state of Kansas," Brownback said.
The law originally required states to expand Medicaid to cover all individuals, regardless of family status, up to 138 percent of the federal poverty level. But the U.S. Supreme Court struck down that provision of the law, saying the federal government could not make such an expansion mandatory.
Currently in Kansas, working-age adults are eligible only if they have dependent children and their income is below about 25 percent of the poverty level.
The White House Council of Economic Advisors has estimate an additional 100,000 people in Kansas would gain coverage if the state expanded Medicaid, and the federal government would pay about 90 percent of the cost.
But Brownback has said he doesn't believe Congress will follow through on that funding and that the cost would eventually be borne by the state.
Other issues where Brownback said the federal government is interfering with states' rights include:
The U.S. Fish and Wildlife Service's decision to list the lesser prairie chicken as a threatened species in Kansas, something he said interferes with agriculture and oil and gas production. Earlier this month, Brownback and Kansas Attorney General Derek Schmidt said they would sue in federal court to block that designation.

Proposed new clean water regulations, which Brownback said would extend federal regulation to farm ponds and drainage ditches, a charge that EPA officials have denied.

Gun rights. Brownback signed a bill into law this year making it illegal for federal officials to enforce federal gun laws over guns that are manufactured and kept solely in Kansas. The Brady Center, a national gun control advocacy group, recently filed suit in federal court challenging that law, but Brownback said he would defend the state's statute.

The aviation industry. Brownback accused the Obama administration of "bad-mouthing" the general aviation industry through its repeated calls to eliminate tax deductions for corporate jets. He said the private aircraft manufacturing industry is important to Wichita and the tax incentives help make those planes more affordable.

Education. Although he did not mention it in his spoken remarks, the accompanying press release alluded to the new Common Core standards for reading and math and new nutrition guidelines for school lunches as examples of federal overreach. "Decisions made for our children on standards, assessments, and accreditation should be made for Kansans by Kansans," the release stated. "I favor local control."
Brownback said fighting for more state control was part of his second term agenda, which he has dubbed "Road Map 2.0."
Speaking with reporters afterwards, Brownback also offered a few details on the economic portion of the agenda that he outlined last week.
That included a call for creating "urban opportunity zones" in high poverty urban areas. On Monday he said such zones would be modeled after the rural opportunity zone program enacted during his first term and would likely include income tax breaks and student loan forgiveness for people who move into or make business investments in those areas. He said areas of Wichita, Kansas City and Topeka would be the most likely locations for those zones.
Copyright 2018 The Lawrence Journal-World. All rights reserved. This material may not be published, broadcast, rewritten or redistributed. We strive to uphold our values for every story published.