Topeka — Facing a tough re-election bid, Gov. Sam Brownback on Tuesday began laying out his agenda for the next four years, including a goal to create 25,000 new private-sector jobs per year and to continue cutting taxes for Kansas businesses.
Speaking at a campaign stop in Topeka, Brownback said helping small businesses is the key to growing the Kansas economy, and that small businesses want "a stable regulatory environment and low taxes."
"So what we said, we'll give you a stable regulatory environment and zero taxes. That's the best small business atmosphere in America, and we want to keep it that way," Brownback said.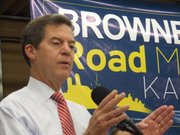 Tuesday's announcements focused mainly on Brownback's economic goals for the next four years. He said he would outline goals in other areas later in the month.
He provided no details on how he would accomplish the economic objectives, saying that will be spelled out later in the campaign.
Other parts of his economic road map included:
• Making Kansas, "the top location for companies considering reshoring their facilities from overseas."
• Creating urban opportunity zones to revitalize high poverty areas.
• Focusing workforce and training programs on helping veterans reenter the private-sector job market.
• Growing the agricultural industry by expanding increasing foreign exports and creating new opportunities for value-added enterprises and specialty production.
• Recruiting more advanced manufacturing to Kansas.
• And continuing implementation of the highway program known as T-Works, putting a renewed emphasis on "private-public partnerships."
Speaking with reporters after the Topeka event, Brownback was immediately confronted with questions about how the state could afford additional tax cuts, plus other investments he intends to make, when facing a projected $238 million budget shortfall within two years.
"We're going to continue to grow the economy," Brownback said.
Adding 25,000 new private-sector jobs a year would far exceed the job growth Kansas saw during Brownback's first two years in office, when the state added fewer than 12,000 such jobs a year, according to figures from the Bureau of Labor Statistics.
But it would put Kansas about on par with the rest of the country with an annual private-sector growth rate of around 2 percent.
Brownback's campaign is calling the agenda "Road Map 2.0," an extension of the theme he used in his 2010 campaign. Democrats were quick to respond, arguing that the governor failed to achieve the objectives of his first Road Map he outlined four years ago.
"By his own metrics, his 'Road Map' has been an unmitigated failure," Chris Pumpelly, spokesman for Democrat Paul Davis, a Lawrence Democrat who is challenging Brownback in the November election. "Not only has Sam Brownback missed the mark on all of his chosen benchmarks, the Kansas economy is stagnant, our schools are struggling, middle class families are hurting and the state is facing a budget crisis of Sam Brownback's making."
As a candidate in 2010, Brownback laid out several measurable objectives for his first administration and invited voters to judge him by those standards four years later.
Among those was increasing the state's private-sector employment. While Brownback boasts that the state has added 55,000 new private-sector jobs since January 2011, that growth rate — 5.1 percent over 42 months — has lagged behind the national rate of 7.7 percent over that same period.
Kansas has also lagged the rest of the nation in growth in personal income, which was another part of his first road map. According to the Bureau of Economic Analysis, personal income in Kansas grew 8.5 percent from the first quarter of 2011 to the first quarter of 2014, the most recent figures available. Nationally, personal income grew 10.3 percent.
Brownback also promised to increase the percentage of fourth-graders who are reading at grade level, which he defined as scoring proficient or better on the National Assessment of Educational Progress, or NAEP exam.
That number did increase slightly, from 36 percent in 2011 to 38 percent in 2013. The test is given every other year. Many education experts say it is more accurate to look at NAEP's top three performance categories - basic, proficient and advanced. By that measure, fourth-grade reading performance has held steady at 71 percent.
Copyright 2018 The Lawrence Journal-World. All rights reserved. This material may not be published, broadcast, rewritten or redistributed. We strive to uphold our values for every story published.