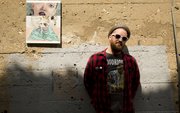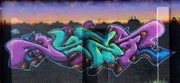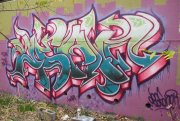 When an art form is viewed as vandalism in the eyes of the law, the challenge for the artists responsible is as much about how to create as about what to create. Graffiti is such an art form, with authorities quick to document the crime and property owners eager to scrub the paint off.
To protect themselves, graffiti artists rarely reveal their true identities, and as a result don't always receive recognition for their work. And the ones that do come out of hiding risk being arrested.
So it begs the question: Is creating graffiti art worth the risk? We asked some local graffiti artists, law enforcement and art experts to find out.
Unwritten Rules
Mbur and Guber have adopted a "Midwest mentality" when it comes to their graffiti artwork in town. They aren't out to destroy other people's personal property, Guber says. "We try to be polite," he says. "A lot of people will cross other people out but this is Lawrence, Kansas."
Here are a few other off-limit spots Mbur and Guber refuse to paint:
• Banks
• Schools
• Building faces
• Churches
• Windows
• Historic buildings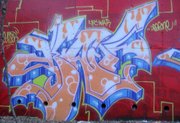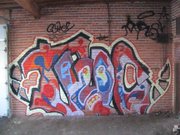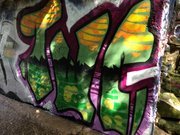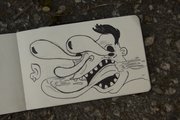 Vandalism or art?
The most common kind of graffiti in Lawrence is tagging, or a five-second, one-color name scribbled on a wall, often meant for destruction and attention. Then there are others who do it as an art form.
Probably the most famous example of graffiti in Lawrence is the "love" garage door at 1200 Mississippi St., which for years has been the go-to spot for engagement photos and still draws the interest of passersby.
It started out as a popular tagging spot, said owner Deb Spencer in a Journal-World story from last year. Years ago, when a Kansas University student painted the word "love" on the red door, it kept negative tags from reappearing. An illegal act suddenly became a Lawrence icon.
Examples of graffiti and street art can be seen throughout Lawrence and can last weeks or even years. In any given alley and sidewalk, one can find graffiti stencils or stickers with characters or images that appear throughout the city. It's all around us.
"For some people it's strictly vandalism," says a Lawrence "graff writer" who goes by the moniker Deaf. "Their whole thing is quick hits, get noticed."
Deaf, who spoke to the Journal-World on condition of anonymity, is on the other side of the spectrum, often dedicating three or four hours on one elaborate piece. He is a street artist, skillfully — and illegally — adorning walls to bring positive, constructive energy into overlooked and, often, undervalued places.
"In my mind it's, 'I'm improving this space,'" he says. "I'm leaving my heart on this wall. I'm leaving the place better than what it was — versus just scratching your name into someone's window."
Deaf was inspired by a giant mural he saw at a Wichita skate park when he was 17.
"I looked at it, dissected it, and thought, 'If I try hard enough, I think I could get good at this,'" he says. "The city gives you a giant canvas."
He picked a name and started to rewrite it — and redesign the letters — in as many places as he could, claiming territories and improving his technique.
"It becomes an addiction because you start seeing that progression," he says.
He chose the moniker Deaf because those with that impairment rely on what they see.
"What [graffiti] really is is a visual communication," he says. "It's putting some colors, shapes, movements, lines on a wall for someone to see and interpret in whatever way they want to interpret it.
"Look at this derelict area with nothing cool happening. Now that I've come put in this color and this energy, how do you view the entire area differently? I've put in this art where it used to just be trashy."
Professional street art
Matthew J. Asbury, 31, is a graffiti artist who refuses to hide behind his alter ego.
At 14, he started to do hand-style graffiti under the moniker DEDKIDD in Leavenworth, scrawling his name all over his hometown. He's since moved on to cartoon characters with messages for the community.
As DEDKIDD, he's been contacted to design CD covers, T-shirts, posters and regular live art pieces for Lowercase Kansas and Red Tail Readings in Lawrence. He competes against other writers in graffiti battles in Kansas City, and will frequently do live painting for concerts. Dubstep music has made that kind of artwork popular, Asbury says.
He's easy to track down because he doesn't hide behind his moniker.
"To not own up to it is basically saying you're doing vandalism," Asbury says. "I'm saying, 'I made this place beautiful.'"
Of course he's gotten more strategic about painting, having been arrested several times since he was 17. Asbury doesn't tag in Lawrence where he lives, but will venture out to Kansas City. He won't advertise his work online, but if someone asks about a tag, he will confirm it's his handiwork.
"If I get arrested, honestly, any publicity is not bad press," Asbury says.
As an illustrator who attended the Kansas City Art Institute, Asbury's abstract portrait work was recently on display at the Bourgeois Pig. His two identities are completely separate, he says, living a completely different life by night.
"You're a superhero. You're spreading your word all over town trying to change minds on life," he says. "You're a modern day superhero."
'Not the smartest thing to do'
Law enforcement officials look at graffiti artists more as villains than heroes.
From 2010 to 2012, there were 347 reported incidences of graffiti, says Sgt. Trent McKinley, Lawrence Police Department spokesman. The number has decreased to 226 reports from 2012 until present.
These are predominantly quick-hit tags in downtown Lawrence, he says.
McKinley says having caught a few individuals linked to dozens of tags in town was enough to cause a statistical downfall.
"They stop activity after learning it's not worth getting caught," he says.
The charges the accused face are directly related to the degree of damage done to a property. If removal costs exceed $1,000, vandals are looking at felony charges, McKinley says.
Business owners are asked to report graffiti incidences and remove it from the property within 14 days. If it isn't reported, there isn't much the police would do, McKinley says; however, the city can step in if graffiti is offensive or threatening.
Security cameras installed by Lawrence businesses have been instrumental in leading to arrests in a variety of crimes, including graffiti, he says.
The police department keeps a record of every related tag to build a case against the vandal once caught in action. It's similar to auto burglary, McKinley says, in that it's likely if they've committed the crime once, they've done it several other times.
"It's not the smartest thing to do," McKinley says. "You're continuously signing a signature."
Artistic value
The value of graffiti artwork depends on the artistic intention and location, says Spencer Museum of Art Curator Susan Earle.
When writers are in some kind of tagging battle, or mark private property, those err on the side of vandalism, Earle says.
Some communities such as Denver, however, are incorporating graffiti pieces — or elaborate works that involve color variation and effects — and more mural-like graffiti works into public art programs that serve to restore life to rundown neighborhoods.
"They find that using this art form that can be readily understood by people helps the community feel more connected to each other and their physical space," Earle says. "It's allowing a space and forum for people to make it in a way that will be considered more redeeming than something malicious."
Leaving their mark
Whether writers work from rough sketches, freestyle or a bit of both, translating the idea to a wall is unlike any other experience, says Deaf, the graff writer.
"You're working on a very large scale and so your whole body is involved in painting a piece," he says. "To make a line that starts 6-feet-tall and ends ankle-high, that takes full body movement. So it becomes a dance and you begin interacting with the wall."
The more a writer gets into graffiti, the more expensive it gets because you learn about quality, says graff artist Mbur (pronounced like ember), who spoke on condition of anonymity.
"Paint can be like $8 a can," he says. "As opposed to $3 at the hardware store for Rust-Oleum."
Rust-Oleum produces an uncontrollable, drippy line when sprayed onto a surface, Mbur says. Quality paint, like Ironlak, has different cap sizes to spray clean lines in different sizes.
If you're drawing, it's the difference between a No. 2 pencil and a nice drafting mechanical pencil, says Guber, an artist who paints with Mbur in the TWC ("the wrong crowd") crew and also wished to remain anonymous.
Mbur and Guber, who both grew up in Lawrence, are literally and figuratively partners in crime, not only watching out for each other on each mission but also helping each other improve artistically. They use these learned skills for commissioned pieces in Lawrence; no one has to know you're a graffiti artist, Mbur says.
"It's a self-taught art class that you learn fast in the dark," Mbur says. "Then you can take all the time you want, and spend a couple days on a huge mural for somebody or some business."
Risky business
The goal for most graffiti artists is to have the tag seen before it gets buffed away.
"There's no guarantees that just because you paint in a high, visible spot that anyone will see it," Deaf says. "There's so many cameras on Mass. Street that it's just super-high risk for very low reward."
Deaf is no stranger to risk, however. While living abroad for a few months, he tried his hand at tagging the local metro. This required a two-way radio system with a scout who monitored the guard's whereabouts, hours of canvassing, bolt cutters, and quick feet and hands.
Along with another writer, Deaf had to sneak through a graveyard, run across a major road, and cut through two fences before reaching the train yard.
Once they got to the train, Deaf says, they were in the open and had 12 minutes to do their work.
After snapping some photos of the finished product, they took out flash card and accidentally threw it out with the gloves. When they realized their mistake, they headed back to reclaim the evidence of the crime, but they'd been in the yard too long, Deaf says.
About halfway out of the yard, the main scout popped his head out from behind a wall, just as a guard came around the corner, he says. "He's just in the headlights.
"First thought was, we're [screwed]. I'm getting deported."
They huddled quickly to decide to make a run for it, and, if necessary, take him down.
"It's you or him, you know?" Deaf says. "Am I going to get deported or punch the guy a few times and run?"
In the end, they all escaped.
Web presence
The Internet changed the game big time for graffiti artists, Deaf says. It used to be about hitting as many spots as possible to gain local or regional fame. Now one post online can grab international attention.
Fifteen years ago, it was a word-of-mouth underground art that didn't extend beyond a city, Deaf says. Writers had to pick the dangerous, high-visibility spots and they had to paint the hardest pieces.
"There was the Internet, but the Internet wasn't like it is today," he says, recalling waiting five minutes for one photo to load on a computer with dial-up access. "You'd have to have to go to the bookstore and get a graffiti magazine to read about what people were doing to see new graffiti."
Instagram has become the perfect platform for the graffiti world.
"Any kid can go out to any wall out in the boons, paint a (cool) piece, put it on the Internet and billions of people are going to see it," Deaf says.
Copyright 2018 The Lawrence Journal-World. All rights reserved. This material may not be published, broadcast, rewritten or redistributed. We strive to uphold our values for every story published.