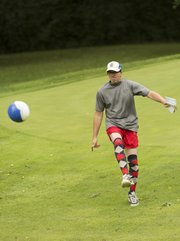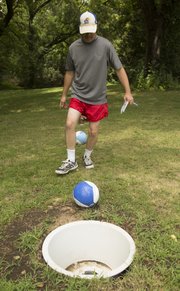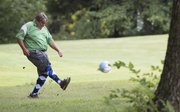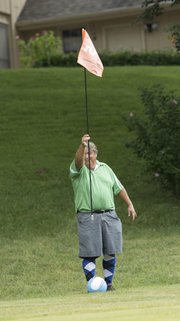 Oh, to have the mind of Tom Keegan.
I approached the esteemed sports editor for the Lawrence Journal-World and told him this would be the oddest question he would receive all day: Would you like to play FootGolf tomorrow?
"Sure, I could play some FootGolf," Keegan quickly says.
Me: "Oh, so you know what FootGolf is."
Keegan: "No idea."
To play
The Orchards, 3000 Bob Billings Parkway, is open for FootGolf during the course's normal business hours, except on Tuesday mornings and Friday mornings, when the course is reserved for traditional golf leagues. Green fees are $11. You can bring your own soccer ball or rent one for $3.
I was afraid to ask whether it was the feet or the golf that sparked Keegan's enthusiasm, but, regardless, we're off to test our open minds, our big toes and, it appears, the boundaries of fashion, by playing a round of FootGolf.
For those of you unfamiliar with the sport, it has become popular overseas, on the coasts and now is making its way to the Midwest. Lawrence's first course recently opened at The Orchards Golf Course along Bob Billings Parkway.
As for the rules, they're relatively simple to understand: You play golf with your feet and a soccer ball.
Course owner Richard McGhee has installed 18 holes of FootGolf alongside the traditional nine golf holes at The Orchards. The cup for FootGolf is about 21 inches in diameter and about 14 inches deep to accommodate a standard soccer ball. The cups are generally placed in the rough alongside the traditional golf fairways. The 18 holes on the course range in length from 98 yards to 270 yards, if you are playing from the championship tees.
Now we understand the basics. But standing here on the first tee, we're still not sure just how different this game will be from regular golf. Let's see: Keegan's first shot is in the creek. My first shot doesn't reach the creek, but, fear not, my second one does.
Huh, not that different.
•••
McGhee, a retired executive from Blue Cross Blue Shield who bought The Orchards after going back to school to get a degree in health psychology and physical activity, said it is kind of natural for people to jog after the soccer ball after they have kicked it.
Apparently, Keegan and I subscribe to a different nature channel, because I can assure you there has been no running. I'm sure others do, though, McGhee said he's confident the FootGolf course is going to attract people who are looking for a different way to be active.
A different way to be active is an area that is in high demand, says Ernie Shaw, the city's director of parks and recreation. He's been in the recreation industry for decades, but now may be as unique a time as any for the industry. Simply put: What and how Americans are playing is greatly changing.
"Honestly, I don't know that we quite have a handle on exactly where it is going at this point," Shaw says. "But we're seeing a lot of change."
Longtime staple sports — like adult softball — have seen their numbers sag. The golf industry is in a well-documented downward trend. But other activities have taken their place. Think of disc golf, think of mountain biking, or think of simply getting out and walking your dog. Shaw said the city's dog park at Clinton Lake is the most heavily used park in the city on many days.
And then there are the more extreme sports that are having fantastic growth. Shaw said parks for skateboarders attract big crowds, and now cities are starting to install themed obstacle courses where participants jump from one structure to another at a frenetic pace. Following that extreme theme, the Kansas Department of Parks, Wildlife and Tourism confirmed last week it is exploring the feasibility of a manmade whitewater rafting facility and zip line park at Clinton Lake.
All this new stuff is different, but that doesn't mean it is bad. Shaw says a common theme is that people want to be outside more, and McGhee said he thinks the new sports create an opportunity to make people more active. Thus far, McGhee has prohibited the use of golf carts for the FootGolf course.
"I have people who are moving more today than they did yesterday because of this place," McGhee says. "That's really what I want to do. I want to get people moving again."
•••
I hate physics.
Most days you don't really spend any time thinking about the physical laws of nature that dictate a large ball — like a soccer ball — will roll much farther down a hill than a small ball — like a golf ball. Then you play the 167-yard, uphill, par 4 No. 5 hole.
At this point, I'm three shots behind Keegan, and I decide that it is time to break out my Rory McIlroy leg — because let's make one thing perfectly clear here: I can outkick Tom Keegan. But I can't outkick the hill. I hit my second shot up the hill toward a flat landing spot about 30 yards away. I land about 10 yards short on a slope, and my ball rolls about 75 yards down the hill, stopping just short of my old friend, the creek. Later on that hole, I miss a two-foot downhill put that rolls another 20 yards past the cup.
I take a 10 on the scorecard. At this point, I'm thinking of a piece of advice McGhee gave me at the start: Look for a good lie. That sounds perfect. I think I'll lie about having a Tiger Woods type of problem, but I can't remember if that is a bad back, a bad knee, or crashing my car into a tree. (I assume that's the type of lie McGhee meant.)
But then I get a boost of renewed hope. Keegan is doing some type of ritual with the flag stick called "plumb bobbing," a method used to determine the lay of the land to figure out the break on a putt.
"I don't really know how to plumb bob," Keegan finally says.
I think you are required to admit that when you are putting for a 13.
I'm back in the game, but somehow find myself on the next hole conducting a Chi Chi Rodriguez shot that consists of me using my heel to make a backward kick from underneath a tree. It doesn't go quite as well as I had hoped.
But at least I have argyle socks. Both Keegan and I do. Apparently, if you want to be a traditionalist, you wear argyle socks up above your knees when playing FootGolf. McGhee's wife, Chris, brings ups some nice ones on the third hole.
Some four holes later, you may take note that Keegan's socks are covered in cockleburs, if you are looking for a sign of how his round has gone. But let's give Keegan his due. Keegan is an avid traditional golfer. That seems to be an advantage in the game of FootGolf. Despite outkicking Keegan, touch is still important around the greens, and Keegan's putting prowess carried over to FootGolf. Keegan finished with a 51 through 9 holes. I finished with a 58.
But we both had fun. Keegan says he plans to bring his wife to the course to play a round. I may bring my 11-year old son. We also learned a bit, too. I learned I look great in argyle, and it pays to have an open mind. On the No. 7 green, Keegan even claims to have figured out the secret of this new game: Softer is often better because the harder you kick it the more likely it is to roll back down the hill.
"Look at that, only seven holes and I've already become an expert," Keegan says.
That's fine. When the editors want us to go out and test Lawrence's next new thing in recreation — I'm betting Lawrence's first zip line — I'm going to let Keegan lead the way.
I'm really worried about the physics on that one.
Copyright 2018 The Lawrence Journal-World. All rights reserved. This material may not be published, broadcast, rewritten or redistributed. We strive to uphold our values for every story published.