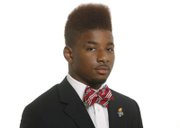 Dating back to high school basketball recruit Baron Davis, who chose UCLA over Kansas University, hat tricks don't play real well around here, I've noticed. And then Corey Avery, the latest (Dallas) Carter High legend, left Texas and Nebraska ball caps on the table because he preferred the fit of the one with the Jayhawk on it.
Listed at 5-foot-10 and 170 pounds, Avery has a thick build and knows how to make much thicker guys miss. He's a running back and a pass-catching threat, and he looked right at home among the veterans Friday, the first day of KU football practice.
"What people don't know is he committed to Ohio State early on and then his parents wouldn't let him do that," said Reggie Mitchell, running backs coach/recruiting coordinator.
Recruits must limit their official (the school picks up the bill) college visits to five.
"We were fortunate that we happened to be his last visit," Mitchell said.
It wasn't supposed to be that way. Avery postponed his first scheduled visit to see another school. Mitchell needed to gauge the sincerity of Avery's interest, so he called his father. Constance Avery assured Mitchell his son would visit, asked him to choose the date, and delivered on his promise.
KU coaches for years have said landing commitments after visits is not the difficult part; it's getting them to visit. The seeds for Avery's were planted in Austin.
"He told me, 'Coach, I'll be at your Texas game (in Austin),'" Mitchell said. "From there, it kind of took off. He said, 'Hey, I'm going to visit.' I'm like, 'What? You're going to do what?' He said, 'Yeah, I'm going to visit.'"
Avery liked what he saw and didn't let KU's depth at running back scare him. Mitchell's approach with recruits on that issue makes a lot of sense.
"Running back is like a tire," Mitchell said. "When your tread is worn out, you're done. You only have so many hits in you. Where would you rather have your hits, at KU or in the NFL? They all say the NFL. Running backs hit a point and they just drop off. By age 26, 27, done."
Running back by committee can extend careers. As recently as 2003, 13 NFL backs averaged at least 20 carries per game. Last season, Tampa Bay's Doug Martin (21.2 per game) was the only one.
Mitchell can't sell a winning tradition, but does have one boast unique among conference schools. Only one other Big 12 school (Oklahoma State: Barry Sanders, Thurman Thomas) can say it has multiple running backs enshrined in the Pro Football Hall of Fame. Thanks go to Gale Sayers and John Riggins for that.
Copyright 2018 The Lawrence Journal-World. All rights reserved. This material may not be published, broadcast, rewritten or redistributed. We strive to uphold our values for every story published.