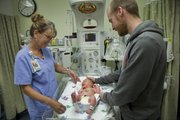 Not long after she was born, Breckyn Reynolds' feet started turning blue. She kept shedding weight. She slept constantly. Doctors suggested her mother and father give her supplements.
One day, when her skin turned gray and her breathing became desperate, her parents took her to the emergency room. She was subsequently life-flighted to a Kansas City children's hospital, flat lining on the way there.
"They didn't think she would make it at all," said Breckyn's mother, Kim, a 37-year-old college foundation director from Concordia.
Breckyn did make it. She's now 6 and looks like any other kid her age. But her outward appearance belies the fact she has a terminal illness. That likely wouldn't be the case had doctors at the Belleville hospital where she was born performed a simple test that would have alerted them to Breckyn's severe heart defects.
Kansas is one of only 10 states that doesn't require that its newborns be screened for critical congenital heart disease. While most hospitals and birthing facilities in Kansas perform the screening on all newborns, about a third, mostly in rural areas that don't have a lot of births, do not.
Rather than pressing for legislation, the Kansas Department of Health and Environment has been traveling across the state to train doctors and nurses to do the screening and raise awareness about its efficacy. Still, that's not enough for some advocates, who believe the state should just mandate the testing because of the lives it could save, and at only about $4 per test to boot.
"If you don't catch it, these babies can be sent home and there can be tragic results," said Kevin Walker, regional vice president of advocacy for the American Heart Association. "The screening has been proven effective. It's inexpensive. It's noninvasive. There's no reason not to require it."
A rare, but deadly, disease
About 1 out of every 500 children born in the U.S. has a critical congenital heart defect, or CCHD. Babies with the disease generally need cardiac surgery or catheterization within the first year of life. If it's detected and corrected early, the kids can go on to have long, healthy lives; if not, they can have severe complications that can ultimately lead to death. KDHE doesn't currently collect data about CCHD; a reporting program is part of the screening initiative. Based on the national numbers, about eight Kansas babies are born each year with a CCHD.
Infants who are screened for CCHD have a pulse oximeter attached to a hand and foot. If the screening indicates low oxygen levels, further testing is done to determine whether they have a CCHD. In 2011, the U.S. Department of Health and Human Services suggested the test be added to its recommended uniform screening panel. Organizations including the American Academy of Pediatrics, American Heart Association and American College of Cardiology all support the widespread use of the screening tool. Forty states now mandate the testing; Kansas isn't one of them.
KDHE, however, believes its recent statewide initiative, which it launched earlier this year, will negate the need for legislation. Agency officials say it has already increased use of the screening from 30 percent of birthing facilities across the state, covering 78 percent of Kansas births, to 70 percent, accounting for 93 percent of births. While KDHE declined to provide a list of hospitals that don't currently do the screenings, a spokesperson said most are in less-populated parts of the state.
"We're hoping that by the end of the year we'll be at around 100 percent of the births," said Rachel Sisson, director of KDHE's Bureau of Family Health. "The benefit to this, even more so than potentially a mandate, is that we're working in partnership with hospitals and birthing facilities. … The partnership, training, education goes far beyond what a requirement would do."
But the state has mandated newborn screenings before, most recently in 2008, when it expanded the list of required screenings from four to the current 29, the number recommended by HHS at the time. Twenty-eight are done through a blood sample birthing facilities send to the KDHE lab in Topeka for testing; the other is a hearing test done at the hospital.
Since 2008, HHS has added two tests to its recommended uniform screening panel — for CCHD and severe combined immunodeficiency, or SCID — but Kansas has not followed suit. (Kansas is also one of 19 states with no plans to mandate screening for SCID; however, that disorder, commonly called "bubble boy" disease, is even rarer than CCHD, affecting just 1 in 66,000 live births.)
Many states go above and beyond the federal recommendations. For instance, of the states that border Kansas, Missouri's required newborn screening panel includes 58 disorders, Oklahoma's has 51, Colorado's has 40, and Nebraska's has 30.
KDHE recently visited Lawrence Memorial Hospital to examine its CCHD screening process. LMH has been testing all of its newborns for CCHD since 2010. Since then, a little more than one baby a year has failed the screening, according to Traci Hoopingarner, director of the hospital's birthing center.
Already being done locally
Kristi Keefer's son, Cooper, was diagnosed with several serious heart defects in utero, so a medical team was waiting to transport him for treatment as soon as he was born. But that only happened because she had a more detailed sonogram after having complications during a previous birth.
The 38-year-old Lawrence woman and her husband, Terry, went on to start the Cooper's Cause Foundation, which supports families of children with heart disease. While Cooper has undergone several open-heart surgeries, he is likely alive today because of early detection.
"We have many families who have lost their children because they didn't know about their heart defects when they went home," Keefer said. "To me, it's just senseless that Kansas doesn't mandate the screening. There's no reason not to."
Walker, from the American Heart Association, said that while he is happy with KDHE's efforts to increase the use of CCHD screening across the state, he doesn't think it has to be exclusive from a mandate.
"The babies who are being born don't have the luxury of time," he said. "We could be developing rules and regulations at the same time we are developing the quality-improvement process."
Walker said he believes CCHD can be added to the screening panel without legislative authority. He cites a passage from Kansas state law that reads: "The secretary of health and environment shall adopt rules and regulations as needed to require, to the extent of available funding, newborn screening tests to screen for treatable disorders …" A KDHE spokesperson said the agency does not have the authority to mandate the screening.
The Kansas Hospital Association, for one, agrees with the way KDHE is going about expanding CCHD screening.
"We think the voluntary effort is the best approach at this time," said Cindy Samuelson, a KHA spokeswoman. "There hasn't been any pushback from anyone on it."
State Rep. Barbara Bollier, a retired anesthesiologist who sits on the House Health and Human Services Committee, said she doesn't think politicians should be telling doctors how to do their jobs.
"As a physician, I think it's dangerous for us to try to start legislating the practice of medicine," she said. "Things that are good become standard of care through medical practice. What if we started passing laws for everything a doctor should be doing at a checkup and pass a law for every way you should treat cancer? That wouldn't make sense."
Reynolds, however, said she will continue her advocacy on the issue, which includes lobbying legislators and telling her story to anyone who will listen. She doesn't understand why the state won't require what she calls "a $4 test that takes less than five minutes," noting that her daughter's health care has cost her family $2.5 million to this point.
"I feel like nothing I can do will ever change what happened to Breckyn what her prognosis is, and I will forever feel guilty for not making doctors find it sooner," she said. "But I promised her I would do everything to make sure no other mommies and daddies would have to go through what we've gone through."
Copyright 2018 The Lawrence Journal-World. All rights reserved. This material may not be published, broadcast, rewritten or redistributed. We strive to uphold our values for every story published.