Maybe your wallet has been telling you for some time, but now there are government numbers saying it as well: Lawrence is the most expensive metro area in the state.
The latest figures from the federal Bureau of Economic Analysis show Lawrence residents are feeling the pinch in two areas. The city's cost of living, although lower than the national average, is higher than in any other metro area in Kansas. To make Lawrence's predicament worse, residents also earn far less than those in other Kansas communities.
How big is the difference, you ask? Well, take Manhattan for example. The college community just west of us on Interstate 70 has a cost of living that is about 3.6 percent cheaper than Lawrence's. The per capita, inflation-adjusted income for a Manhattan resident, though, is about $7,700 more than what Lawrence residents earn.
In other words, not only are there more dollars per person in Manhattan, but they buy more as well.
It is an equation that is true in the three other Kansas metro areas of Topeka, Kansas City and Wichita as well. The numbers also show Lawrence doesn't fare well on a regional basis, either.
Local reaction
Community leaders said they weren't pleased to hear the new numbers, but also weren't shocked.
"I guess I can't say it is real surprising," said City Commissioner Jeremy Farmer, who also is the executive director for the local food bank Just Food. "We are kind of an entertainment and service-oriented community right now. That is who we have grown to become. This speaks to the need for more primary jobs."
City Commissioner Mike Dever said the cost-of-living issue is one that he does hear about as he travels.
"I hear from people that Lawrence is a great town, but the cost of living seems higher than other places in the state," Dever said. "But I think some of that is outweighed by the quality of life. It is a community with a vibrant downtown, a lot of amenities and a lot of options for things to do outside of work."
Mike McGrew, chairman of the Lawrence Chamber of Commerce and also the leader of Lawrence-based McGrew Real Estate, said he's seen through his industry that real estate prices in Lawrence generally are higher than anywhere in the state other than Johnson County.
He said Lawrence's quality of life may support those prices, but he said the lower than average incomes highlight why Lawrence must have better success in attracting jobs.
"I think we already may be seeing the early signs of people saying, I would love to live in Lawrence, but I have to go where the jobs are," McGrew said. "We don't want that to be the answer. We have to have the jobs here."
The numbers
The new figures are part of a project by the Bureau of Economic Analysis designed to give people a better idea of how much it costs to live in various metro areas. It measured both income levels and how much it costs for goods and services such as transportation, education, household staples, entertainment and other categories based on 2012 data.
The cost-of-living component assigns every metro area in the country a score. A score of 100 is equal to the national average. Lawrence checked in with a score of 95.5, so its price index is 4.5 percent less than the national average. But most communities in the Midwest have prices less than the national average. Click on the chart below for details.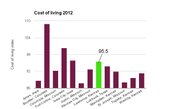 The BEA then used the price indexes for each metro area, along with national inflation numbers, to create an inflation-adjusted per capita income number for each metro area.
Lawrence checked in with an adjusted number of $36,103, which left it behind a host of communities, including several university communities that also have to contend with high numbers of students who typically bring the per capita numbers down. Click on the chart below for details.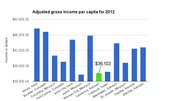 The figures also measured growth rates of per-capita incomes in the metro areas. Lawrence fared slightly better in that category. From 2011 to 2012, Lawrence's adjusted per capita income grew by 1.38 percent.
That was still only good for the ninth fastest growth rate among the 13 regional communities examined by the Journal-World. But Lawrence wasn't ranked last in the state in that category. Manhattan, after several solid years of income growth, saw its per capita income totals drop by 3.96 percent, which was the biggest drop of any of the 13 communities. Joplin had the largest per capita growth rate on the list at 5.58 percent.
Copyright 2018 The Lawrence Journal-World. All rights reserved. This material may not be published, broadcast, rewritten or redistributed. We strive to uphold our values for every story published.