Photo Gallery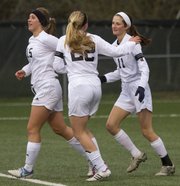 Free State soccer vs. Gardner-Edgerton
The only person who could stop Free State's girls soccer team from scoring on Monday night was the assistant referee who signaled offside.
When the Firebirds were allowed to keep running — in between 13 attacks stopped because they were called offside — they dominated against Gardner-Edgerton in a 8-0 victory at FSHS.
Free State players pride themselves on avoiding offside calls and proved what can happen when they avoid the raised flag. Seniors Kaitlin Dunbar and Tanna Fanshier passed the ball around defenders to find senior Lexi Brady, who pushed a shot into the back of the net for a goal in just the 7th minute of the match.
That became a common trend as the Firebirds (7-3) danced around the defense, used their strength to steal the ball and were always a play or two ahead of Gardner-Edgerton. They outshot the Trailblazers, 32-6, and senior defenders Olivia Hodison, Hadyn Hutchison and Hanna Heline shut down every opposing attack, turning senior goalkeeper Annie Hierl into more of a spectator before she moved up to attacker at the end of the game.
Fanshier added a goal in the 11th minute, scoring easily after receiving a beautiful pass from Rosemary Newsome. Senior Maddie Dieker found Fanshier for another goal in the 47th minute.
Dieker controlled the middle of the field, toying with opponents by dribbling around them and then making crisp lead passes for her teammates. She scored in the 35th minute on an indirect free kick after an illegal back pass. From six yards away, Dieker, a University of Portland signee, ripped a shot underneath the wall of Trailblazers who were on the goal line.
In the second half, it was more of the same as Allix Ice scored on a feed from Anna Craig, and Jessica Ferguson dribbled past defenders for a goal. The only person who couldn't join in on the scoring fiesta was Craig, who found plenty of opportunities to score but somehow just couldn't find the back of the net.
"I had a lot of chances and it was so frustrating missing like every shot I took," said Craig, who also facilitated a lot of attacks with strong passes. "But it's OK because all of my teammates got goals so I was happy for them."
Sophomore Tori Karlin scored her first career varsity goal in the 71st minute, striking the ball from 20 yards out and lofting it over the head of Gardner-Edgerton's keeper.
"As soon as I kicked it, I just had that feeling that it was going to go in," Karlin said. "Then it was really exciting."
Less than a minute after Karlin's goal had the student section jumping up and down to celebrate, junior Brooke Hayes snuck a shot on the left side of the keeper for a score.
"It's so much fun just because we're so relaxed and easy going," Ice said. "I got to play forward today — the first time I've played there all season — and I actually scored a goal. It's just really fun."
The Firebirds will go on the road tonight to play Shawnee Mission South at 7 p.m.
Copyright 2018 The Lawrence Journal-World. All rights reserved. This material may not be published, broadcast, rewritten or redistributed. We strive to uphold our values for every story published.