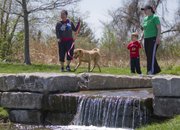 Looking to get back out into nature now that the weather is getting warmer? Lucky for you, Lawrence has a variety of parks and nature areas for people who want revel in the outdoors this spring.
Mary Jones of Lawrence's Outside for a Better Inside, an organization that advocates for children getting outside to play more, offers a few suggestions for places families can go this time of year to, say, go hiking, fly a kite or have a picnic:
1. Rotary Arboretum, 5100 W. 27th St.: This arboretum in south Lawrence features, of course, lots of trees, but also walking paths, a gazebo and a water-conserving garden. There is also a pond, a small stream with waterfalls and a butterfly habitat area created in conjunction with local conservation organization Monarch Watch.
"It's just a fantastic place for families to go," Jones said. "It has nice walkways around it. Older kids can ride from there clear out to the lake. For little kids, it's a great place to ride trikes or scooters."
2. Pat Dawson-Billings Nature Area, southwest of 27th Street and Crossgate Drive: This nature preserve, which has been described as a "prairie oasis," features native grasses and wildflowers, and is often visited by water fowls and eagles. It also has three large ponds with fish stocked for public fishing by the Kansas Department of Wildlife and Parks.
"It's a great place for families to go fishing," Jones said.
3. Prairie Park Nature Center, 2730 Harper St.: This nature center and preserve on 80 acres in east Lawrence offers wetlands, woodlands, prairie habitats and walking trails. The 5-acre Mary's Lake is open for public fishing, with fish stocked by the Kansas Department of Wildlife & Parks. Wildlife known to roam the property include deer, bobcats, beavers and several birds of prey.
The nature center features nature dioramas and displays, as well as live animals such as eagles, owls, hawks and falcons. It is open Tuesday through Saturday from 9 a.m. to 5 p.m. and Sunday from 1-4 p.m., and is free to the public.
"Boy, that nature center has lots of great things going on," Jones said. "I sat through part of a snake program the other day — pretty interesting."
4. Lawrence Nature Park, Folks Road: This 100-acre nature preserve in northwest Lawrence has trails, wildlife and a variety of native trees, grasses and plants.
"A great thing to do there is go out with kids and do a scavenger hunt — a nature scavenger hunt," Jones said.
Copyright 2018 The Lawrence Journal-World. All rights reserved. This material may not be published, broadcast, rewritten or redistributed. We strive to uphold our values for every story published.