Heather Ousley had blisters on her feet by the time she arrived at the Kansas Statehouse on March 31.
So did a lot of other people who walked with her on various parts of her 60-mile trek that started a few days earlier in Johnson County, wound its way through Lawrence, and finished in Topeka just as the Kansas Legislature was beginning its final, hectic week of the 2014 regular session.
The purpose, she said, was to raise public awareness about the school finance debates taking place in the Legislature.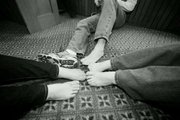 And while the session did not end the way she had hoped — she opposes the school finance bill, which eliminates teacher tenure, lowers licensing standards in some subjects and provides corporate tax breaks to fund private school vouchers — Ousley said the people in her group, and many more like it around the state, are not discouraged.
"This has just energized us and made us realize how really important this is that we have to continue to advocate," Ousley said.
Ousley, a mother of three from Shawnee, is one of the organizers behind a relatively new grassroots organization, "Game On for Kansas Schools."
Originally, she said, the name was meant to evoke the excitement of a sporting event. But it has also come to reflect a more daring, even confrontational mentality as the groups head into the 2014 election cycle hoping to put education issues at the top of the agenda.
"With the policy changes that have been put in place, we now have to be concerned with whether we're going to get to keep the good teachers we have," Ousley said. "I certainly don't want my children's teachers to be afraid that they're not going to be able to keep their job, or that people who aren't certified will get to replace them."
Game On actually began in 2009 with just three parents who were concerned about what they saw happening at Belinder Elementary School in the Shawnee Mission school district where they each had children attending. That was the year the state began making deep cuts in school funding in the wake of the financial industry collapse and the start of the Great Recession.
Judith Deedy, one of the original organizers, said they were concerned about growing class sizes and the disappearance of school trips and other programs. And as they talked with school board members and district officials, they learned that most of the funding decisions about public schools are made by the Legislature, not by local officials.
"Our demographic has done a lousy job of being informed voters," Deedy conceded. "I say that without casting blame on anyone. I used to think I was an informed citizen until I started realizing how little I understood."
With that new focus, members of Game On started reaching out, through social media and other outlets, to connect with like-minded groups in other communities, including Andover, Goddard and Derby in the Wichita area, as well as the local group Educate Lawrence.
Jerry Jost, an organizer with Educate Lawrence, said it all culminated in that final week of the session.
During that week, the chairman of the powerful House Appropriations Committee, Rep. Marc Rhoades, R-Newton, resigned his chairmanship in protest over the fact that GOP leaders were pushing for a clean funding bill, stripped of all the additional policy provisions that conservatives in the House had wanted.
At various times, those included defunding implementation of the Common Core standards, property tax credits for parents who send their children to private schools, and a vast expansion of charter schools in Kansas.
Later in the week, hundreds of teachers who'd come to Topeka for a previously scheduled teachers union convention converged on the statehouse, clad in red tee shirts. They stayed day and night as lawmakers met virtually non-stop from Friday, April 4, through Sunday, April 6.
Between the teachers, Game On and various other organizations, they formed a network of Twitter and Facebook followers numbering in the thousands that reportedly extended into communities throughout Kansas, sometimes competing with the traditional Statehouse news media in being the first to report the news.
"I think it was a really signature moment," Jost said. "I was corresponding and communicating with legislators. And also with Educate Lawrence we had our own action-alert network. I was involved with social media and communications on all the decision points the state was considering."
Deedy said they were not surprised by the outcome because they knew the die had been cast two years earlier, in the 2012 elections. That's when conservatives backed by Brownback, the Kansas Chamber and other organizations swept out many moderate Republicans, taking control of the Kansas Senate and solidifying their hold on the Kansas House.
But now the education groups are looking ahead to the 2014 elections, hoping that they can have more of an impact this time.
"We have a lot of work to do making sure people are informed," Deedy said. "We still haven't decided whether we'll do endorsements, or issue grades for each legislator, or something else. But we will be involved in the process."
Copyright 2018 The Lawrence Journal-World. All rights reserved. This material may not be published, broadcast, rewritten or redistributed. We strive to uphold our values for every story published.