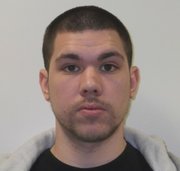 A 26-year-old Edwardsville man pleaded guilty Friday to fleeing from and attempting to elude police, a felony, and misdemeanor charges of second-offense driving under the influence and marijuana possession.
Dustin M. Voelker led police on a 25-mile pursuit earlier this year.
Voelker will be sentenced June 20 in Douglas County District Court. As part of a plea agreement, both parties recommended a sentence of 10 months in prison for the felony charge and 12 months each for the misdemeanors, all to run concurrently. The prison time would follow the current sentence he is serving in Leavenworth County, where he is listed as a parole absconder.
On Feb. 23, a Kansas Highway Patrol trooper attempted to stop Voelker before Voelker led the trooper, and eventually a Lawrence police officer, on a chase from North Lawrence through Leavenworth and Wyandotte counties. Voelker came to a stop after spike strips were deployed.
Copyright 2017 The Lawrence Journal-World. All rights reserved. This material may not be published, broadcast, rewritten or redistributed. We strive to uphold our values for every story published.