Lawrence-area residents shared their views about how the state should manage its water during a public forum about the long-term future of the state's water resources. And some of those ideas probably will not sit well with farmers in western Kansas.
Among the ideas suggested were fundamental changes in Kansas water law that would require farmers in western Kansas to pay a fee for pumping water out of the Ogallala Aquifer.
"This may sound crazy, but it seems to me part of the problem is caused by the free use of water," one man asked. "Is it possible to construct some sort of a fee structure so use of the Ogallala Aquifer is not free, it has some sort of a fee?"
Kansas Agriculture Secretary Jackie McClaskey said it wasn't the first time she'd heard that suggestion. In the roughly six months that she and Kansas Water Office Director Tracy Streeter have been holding public hearings on the long-term future of Kansas water, several people have suggested putting some kind of price tag on the state's groundwater resources to encourage conservation.
But McClaskey said the problem is more complex than it seems.
"One of the things we have tried to look at is really asking maybe a more theoretical question: How do you figure out just how much is that acre-foot of water worth," McClaskey said. "Trying to value that water is the first step."
The forum Thursday at the Kansas Union was one of several that McClaskey and Streeter plan to conduct throughout the state in the coming months as they and other state officials try to put together a long-term plan for the future of Kansas water resources.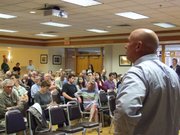 That was the charge they were given in October when Gov. Sam Brownback called for establishing a 50-year "vision" for the future of water in Kansas. They hope to have a final draft of the water plan by November.
But while the depletion of the Ogallala Aquifer has been a major topic in those discussions, McClaskey and Streeter said eastern Kansas faces its own set of issues, including the rapid sedimentation of the state's 24 federal reservoirs like Clinton Lake.
Jerry deNoyelles, deputy director of the Kansas Biological Survey at KU said if nothing is done to prevent further sediment infill, all of those reservoirs will have lost 50-percent or more of their original volume by the end of the century. And dredging them out to restore their original volume would cost an estimated $13 billion at today's prices.
"I don't know that we'll be able to solve all of these reservoir issues, or the groundwater issues," deNoyelles said. "It has to begin with using less."
Copyright 2018 The Lawrence Journal-World. All rights reserved. This material may not be published, broadcast, rewritten or redistributed. We strive to uphold our values for every story published.