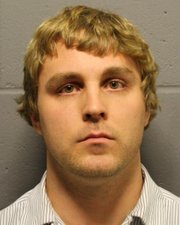 A 26-year-old Lawrence man will serve more than two years in prison after being convicted on felony marijuana distribution charges.
District Judge Paula Martin on Thursday sentenced Jacob Lee Gillihan to 28 months. Gillihan pleaded no contest to two counts of felony marijuana distribution last month in Douglas County District Court. He was also ordered to pay $360 in restitution.
Gillihan was arrested at his home Dec. 4. Prosecutors said the offenses occurred in January and February 2013 when investigators staged two marijuana purchases at Gillihan's home.
A July 2013 civil asset forfeiture notice stated that the Lawrence-Douglas County Drug Enforcement Unit seized more than $17,000 and more than 1.5 pounds of marijuana from Gillihan.
Copyright 2018 The Lawrence Journal-World. All rights reserved. This material may not be published, broadcast, rewritten or redistributed. We strive to uphold our values for every story published.