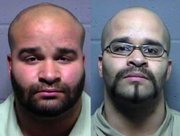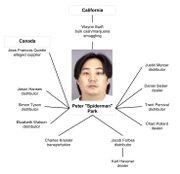 KANSAS CITY, KAN. — Days after a prosecutor likened her opening statements to a motion picture preview, a defense attorney for one of the three men left to stand trial in a federal multimillion-dollar drug case compared his with the front of a jigsaw puzzle box.
Mark Bennett, the attorney for Roosevelt Dahda, said that once the puzzle is complete, what involved the biggest drug bust in Lawrence history will be revealed to not be "one big happy family engaged in one conspiracy."
"A lot of different individuals or smaller groups were running around doing things, but there was not one large conspiracy," Bennett said Tuesday. Bennett called prosecutors' name for the case, "Operation Living Large #2," a misnomer and promised to submit a title by the end of the trial that "more accurately fits the facts of this case."
In all, 43 people were charged in an alleged $17 million conspiracy to distribute marijuana and cocaine between California, Kansas and Missouri. All but three — Lawrence twins Roosevelt Dahda and Los Dahda, and Justin Pickel — are standing trial while all others have pleaded guilty as part of plea agreements. Assistant U.S. Attorney Terra Morehead said Friday that several co-defendants are expected to testify.
Los Dahda's attorney, Richard Johnson, has said there will be charges that will not be disputed. But on Tuesday he told jurors that the defense will argue that Los Dahda did not operate a conspiracy or run a criminal enterprise and he did not distribute drugs near a school.
The conspiracy is alleged to have spanned from 2005 to 2012. At its earliest stages, prosecutors say, an Olathe entrepreneur named Peter Park and his business partner, Wayne Swift, distributed low-grade marijuana from a Kansas City area motor sports store and years later began shipping high-grade marijuana from California under the guise of businesses in both states.
Prosecutors allege that Los Dahda was involved in the conspiracy since at least 2008 and that Roosevelt Dahda entered the picture around 2010. The Dahdas allegedly became connected with Chad Bauman, a Lawrence businessman who pleaded guilty to conspiracy for his role in helping ship hundreds of pounds of marijuana from California to Kansas. Johnson said that in August 2011 the Dahdas had a falling out with Bauman and employed Park and Swift to ship for them by 2012. "That relationship ended in 2012 when everybody was arrested," Johnson said.
Also Tuesday, Pickel's attorney, Henri Watson, told jurors that few of the more than 200 potential witnesses would have anything to say about Pickel and that little evidence and few of the intercepted phone calls involved Pickel.
Watson said there was no question that as the case neared a close, Pickel was stopped by a Nebraska Highway Patrol trooper who found nearly 40 pounds of marijuana and that a subsequent search of his San Lorenzo, Calif., home revealed nearly 200 marijuana plants. But there will be no evidence of Pickel having a hand in the "vast sums of money made" as part of the drug sales alleged in the case, Watson said.
"Evidence will show that Justin Pickel was at the bottom of the totem pole," Watson said. Watson added that Pickel was unsuccessful at growing marijuana and that witnesses would testify the he "didn't know how to grow and his product was poor."
Watson also used the same puzzle analogy first employed by Bennett, with the twist that there was more than one puzzle involved: Bauman, Park and Swift and the Dahdas.
Pickel may be guilty of some crime, Watson said, but "he is certainly not guilty of what he is charged with."
After the opening statements from the attorneys, Lawrence Police Detective Mike McAtee spent much of Tuesday testifying as the government's first witness. McAtee figured prominently in the investigation as part of the Lawrence-Douglas County Drug Enforcement Unit later joined by the Drug Enforcement Administration. Much of McAtee's Tuesday testimony did not go into the specifics of the alleged conspiracy. Instead, he explained the types of techniques detectives employed to investigate the case: pulling trash from suspects' homes, orchestrating controlled purchases of drugs and wire-tapping phones with a federal warrant.
Trial will resume Wednesday in Kansas City, Kan., with McAtee still at the witness stand.
Copyright 2018 The Lawrence Journal-World. All rights reserved. This material may not be published, broadcast, rewritten or redistributed. We strive to uphold our values for every story published.