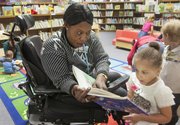 Ndeye Mbaye was reading a book about bugs to a group of preschoolers the other day, looking like there was no place she'd rather be.
"We're going to talk about insects today!" she said in the library of Lawrence's Kennedy Elementary School, smiling broadly, her African accent prominent.
She quizzed the students on their insect knowledge, explained the hatching process, showed them pictures of bugs.
When she was done, the kids picked out books to check out. Some excitedly showed their choices to Mbaye. "Oh, my God," she responded in her sing-songy cadence, matching their enthusiasm. "I like that book!"
The day's activities mixed three of Mbaye's favorite things: children, reading and education.
There truly was no place she'd rather be.
•••
Mbaye, 49, is from Senegal. She grew up in abject poverty. When, at the age of 3, she started showing symptoms of polio, her parents took her to a witch doctor, who determined she was possessed by the devil. The disease stripped her of the ability to walk. Because of her disability, her mother and father didn't let her go to school. Instead, she stayed home and learned the Koran.
"My friends wouldn't play with me because they played cards or Scrabble," she recalled. "All I wanted was to know how to read and write."
Mbaye would eventually get an education. A medical student visiting her village convinced Mbaye's parents that she had polio. She was taken to a children's hospital in Dakar, the Senegalese capital. There, she met a French missionary who saw Mbaye's potential: her interest in books even though she couldn't read them, her eagerness to learn. The missionary asked Mbaye's parents if she could adopt her, and thus give her the education and medical care she needed. Her father refused.
The woman did write a letter, co-signed by the French ambassador, to Senegal's minister of education, demanding that Mbaye be placed in the nearest public school. There, she met another one of her heroes: a school teacher who went out of her way to get Mbaye's fellow students to accept her as an equal.
Mbaye eventually went to college in Senegal, earning a master's degree in English. She later got the opportunity, through a Ford Foundation fellowship, to attend Kansas University. She studied early-childhood special education, in the hopes she could return to Senegal and improve the situation there for kids with special needs, who aren't given individualized treatment and, oftentimes, don't go to school at all.
"No children should be left behind. All children deserve an education," Mbaye said. "I want to show people that even if you have a disability, if you are provided with the right support, you can make it in life. I want to share this wonderful experience with people in Africa."
After completing her studies at KU, Mbaye returned to Senegal. She worked with a national senator to advance special-education issues. She wrote newspaper columns on the topic. But she couldn't find a paying job in the field, and had to share a room with her octogenarian mother. She would look at her master's degree from KU and cry.
One day, she thought up a new plan: to open her own school, where she could train Senegalese teachers on how best to educate students with special needs.
•••
Mbaye came back to KU in 2012, hoping to earn her special-education license and land a job so she could save enough money to make her ultimate dream come true.
While she will receive her license in May, she might not be able to stick around long enough to use it. Her visa expires July 23, and unless an employer offers her a paying job so she can get a green card, she will have to return to Senegal.
Now she worries her dream will remain only that: a dream.
On the bright side, Mbaye has many supporters who will sing her praises to anyone who's willing to listen.
"She has firsthand knowledge of the importance of providing children, particularly children with disabilities, with a quality education," said Barbara Thompson, an associate professor of special education at KU and Mbaye's immediate supervisor. "I think she can make a real contribution here in the U.S."
Marie Taylor would hire her if she could. She's the special education team leader at Kennedy Elementary. She says Mbaye not only brings diversity to the teaching staff at Kennedy, most of whom are white, but is a role model for students, showing them that people with disabilities can accomplish just as much as their able-bodied peers.
"I want to be an advocate for her," Taylor said. But employment decisions are up to the district, she added, and there would likely have to be an opening before Mbaye would be considered for a job.
Tom Skrtic would hire her too. The KU professor of special education has been an adviser, mentor and friend to Mbaye since she first arrived in America in 2006. He says Mbaye's unique background and ability to overcome adversity provide an invaluable lesson to students and teachers alike.
Skrtic's department believed so much in Mbaye it helped fund her most recent educational stay in the States. "Anytime someone wants to come here and study with us and go back to their country and improve services for people with disabilities and their families, I think it's our responsibility to try to promote that kind of development," he said.
•••
Mbaye, who gets around with the help of arm crutches or a motorized wheelchair provided to her by the KU Department of Special Education, is as gracious a person as you'll meet. She thanks people repeatedly, as if to leave no doubt how blessed she feels to have received the opportunities she has.
But she worries constantly, not knowing what her future holds. Though she puts on a brave face, her eyes look tired.
And even after all their decisions cost her, Mbaye holds no resentment toward her parents. Their choices were made not out of scorn, she now realizes, but ignorance. They assumed that the best a person with disabilities could do in Senegal was become a beggar. She made peace with her father before his death in the early 2000s; he died proud of all she was able to accomplish, she says.
Mbaye admits it's hard to be alone in the U.S. She mostly goes from her apartment to school or work, then back, with the occasional stop at the grocery store. She sometimes sits in her apartment for 10 days straight without speaking to another soul.
When she does get out, she often sees Americans with disabilities living normal lives — with families, a house, a car — and wonders, "Why not me?" Then she harkens back to a piece of wisdom her father gave her: that suffering is simply a part of life.
Though her journey has at times been exhausting, Mbaye isn't done trying.
"I will never give up the fight," she said, fighting back tears. "Whatever the situation, however hard the situation may be, I'll never give up the fight."
Copyright 2018 The Lawrence Journal-World. All rights reserved. This material may not be published, broadcast, rewritten or redistributed. We strive to uphold our values for every story published.