A 42-year-old Lawrence man was sentenced to 59 months in prison after pleading guilty to having unlawful sex with a 15-year-old girl, but he could be released in as little as 44 months.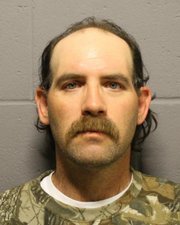 Jerry Leon Criqui II said little during a hearing Friday in Douglas County District Court as his wife and pastor sat in the courtroom as a show of support.
In exchange for his guilty pleas, prosecutors and his defense attorney had agreed to seek the standard sentences for one count each of criminal sodomy and indecent liberties with a child.
Criqui was arrested Oct. 17 on suspicion of multiple counts of sex crimes
Assistant District Attorney Mark Simpson said Criqui exploited his relationship with the victim, whom he described as having several issues in her life including intellectual disabilities. He said Criqui had been a friend of the victim's family and admitted having sex with her in the family's home while her parents were present, although they were unaware of the relationship.
Defense attorney Courtney Henderson said Criqui had learning problems of his own. He said while in jail awaiting trial, Criqui took part in classes to finish his high school diploma, but that he was still several credits short and was having difficulty with those classes.
Judge Peggy Kittel agreed to the plea deal and imposed the sentences of 59 months for one count of criminal sodomy and 32 months for one count of indecent liberties with a child. She ordered they be served concurrently.
Criqui will receive credit for the six months he has already spent in the Douglas County jail awaiting trial, and could receive credit for up to 15 percent of his sentence, or 8.85 months, for good behavior.
Copyright 2018 The Lawrence Journal-World. All rights reserved. This material may not be published, broadcast, rewritten or redistributed. We strive to uphold our values for every story published.