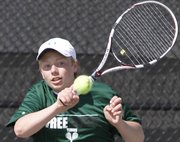 Free State High suffered a 9-0 tennis setback to Washburn Rural on Wednesday at FSHS.
"Today was a tough day," Firebirds coach Oather Strawderman said. "Going 0-9 is never good. My hope is that the guys view this as a learning experience. We want to be competitive with Rural, and today showed us that we are a long way from that."
Washburn Rural 9, Free State 0
Singles
Matt Murray, WR, def Ian Pultz-Earle, 9-3.
Tanner Driggers, WR, def. Stephen Anderson, 9-1.
Nathan Osborn, WR, def. Sam Solis, 9-0.
Jordan Lind, WR, def. David Neff, 9-2.
Jared Bray, WR, def. Seamus Ryan, 9-7.
Reid Osborn, WR, def. Tucker Nickel, 9-1.
Doubles
Murray/Bray, WR, def. Neff/Pultz-Earle, 9-1.
Osborn/Osborn, WR, def. Anderson/Solis, 9-0.
Beard/Garland, WR, def. Nickel/Ryan, 9-1.
Copyright 2018 The Lawrence Journal-World. All rights reserved. This material may not be published, broadcast, rewritten or redistributed. We strive to uphold our values for every story published.