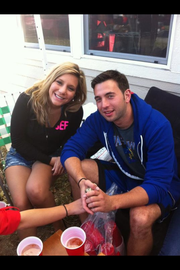 Justin P. Gonzalez, 22, of Mission, will again stand trial next month for involuntary manslaughter in connection with the Feb. 25, 2012, death of Nicholas J. Sardina, a 27-year-old Lawrence man.
Sardina's father, Joseph Sardina, has also filed a separate wrongful death suit against both Gonzalez and the host of the party at which his son was struck in the head with a beer bottle.
The May 28 retrial is expected to again span two weeks. In December, District Judge Peggy Kittel declared a mistrial after a jury split on whether Gonzalez used excessive force when he swung a beer bottle that hit Sardina after Sardina allegedly attacked a friend. Tuesday's motions hearing in the case was rescheduled for April 25 after an undisclosed emergency requiring the judge's attention forced its postponement.
Sarah Swain, Gonzalez's attorney, said Tuesday that she wants the court to compel prosecutors to separate the charge into three counts and require that the jury find Gonzalez guilty of all three, creating a "stronger burden of proof." Swain said the charge alleges that Gonzalez "acted recklessly" in swinging the bottle, that he committed involuntary manslaughter during the course of committing battery against Sardina and that Gonzalez acted in a lawful manner (self-defense) but did so in an unlawful way using unreasonable force.
"As confused as the jurors were last time it seemed like they needed guidance from the state regarding those different options to choose from," Swain said.
Swain also wants Kittel to reconsider a ruling in the previous trial that the defense cannot admit evidence of Sardina's "propensity for violence." The day of the 2012 party, Sardina was sentenced in Douglas County for a July 2011 battery charge. "The jury should know what his reputation was for violence," Swain said.
In response, prosecutors have called such evidence irrelevant and that "the sole reason the defendant continues to aggressively pursue" admitting the evidence is to question Nicholas Sardina's character.
Meanwhile, Joseph Sardina is seeking at least $75,000 in damages in a civil suit against Gonzalez and Whitney Beck, who hosted the 2012 party. Joseph Sardina alleged that Beck "failed to adequately supervise and control the guests she invited," including Gonzalez, "who was under the legal drinking age" at the time. Joseph Sardina's attorney, Timothy Riling, said the civil case has not yet reached the discovery phase, which he anticipated would begin once Beck, who now lives in Overland Park, filed an answer to the petition. Once she responds, Riling said several months of discovery would follow and a trial date would be set.
Gonzalez, meanwhile, has filed a response asking that the suit be dismissed and claimed that "any injury or damage to (Sardina) was caused and/or contributed to be caused by and through the carelessness, negligence and/or fault" of Sardina.
Gonzalez wrote that "his use of force was permitted as self defense because he reasonably believed physical force was necessary to defend himself against (Sardina's) imminent use of unlawful force." Gonzalez also claimed that his use of force was necessary to defend another person from Sardina.
Copyright 2018 The Lawrence Journal-World. All rights reserved. This material may not be published, broadcast, rewritten or redistributed. We strive to uphold our values for every story published.