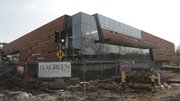 You can finally put a bookmark on your calendar: The new and expanded Lawrence Public Library will open July 26.
Work has progressed to the point that weather is not much of a factor in delaying the work to renovate the library at Seventh and Vermont streets, and library leaders are now confident in setting a date.
Now, the planning for the party begins.
"We're planning a lot of events right now," said Jeni Daley, marketing coordinator for the library. "There will be a grand opening celebration."
The opening day will be a Saturday, and Daley said library leaders are working to arrange for an outdoor evening movie to be shown in the plaza area that will exist between the library and the parking garage. Daley said the library is working with Downtown Lawrence Inc. on the event, and hopes it will spark the renewal of a downtown summer movie series. An outdoor movie series was popular several years ago, but ended when construction at Ninth and New Hampshire took over the vacant lot where the movies were shown.
Daley said there will be many book-oriented events during the day, and likely much celebration from community leaders as well. The $18 million library project was approved by voters in 2010. It will include a complete renovation, plus a 20,000-square-foot expansion of the building. Also included in the project is an adjacent parking garage that more than doubles the amount of parking that existed at the site previously.
The library has been operating out of temporary space at Seventh and New Hampshire streets since January 2013. Daley said she thinks patrons will most appreciate the additional space provided by the project, including major expansions of the children's area, meeting rooms and the public computer spaces.
Daley said leaders are expecting that the library will have to be closed for about two weeks in July to prepare for the move. Daley said the library will announce those details at a later time.
Copyright 2018 The Lawrence Journal-World. All rights reserved. This material may not be published, broadcast, rewritten or redistributed. We strive to uphold our values for every story published.