U.S. Rep. Lynn Jenkins on Tuesday explained her vote in favor of a federal budget bill that she says would rein in the federal deficit, but which Democrats say would gut funding for domestic programs such as Medicare and student financial aid.
"This is basically the same budget we've passed the last several years," said Jenkins, a Republican from Topeka whose district includes Lawrence. "It stands in stark contrast to the president's budget that got two votes."
On April 10, the House passed what many are calling the Paul Ryan budget, after the Wisconsin Republican who chairs the House Budget Committee. GOP supporters say it would balance the federal budget in 10 years by cutting taxes, repealing the Affordable Care Act and making deep cuts in other domestic programs in favor of national defense.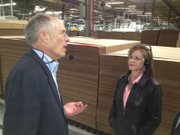 The plan would overhaul the income tax system by reducing the top tax bracket to 25 percent instead of the current 39 percent. And it would reduce domestic spending by about $5.1 trillion over 10 years, largely through changes in Medicare as well as cuts in programs such as Head Start and Pell Grants.
It would overhaul Medicare for people currently younger than 55 by converting it to a "premium support" system that would provide those future retirees with a subsidy to buy private insurance
"I went to Washington to make tough decisions," Jenkins said. "We save the Medicare program without making any changes to current seniors or folks that are near retirement. We save the program which is near bankrupt in 10 years; make sure our nation is secure; and all the while takes care of domestic spending."
Democrats are making the Ryan budget a centerpiece of their campaign to win back control of the House.
"Congresswoman Lynn Jenkins voted against the interest of nearly every voter in the 2nd district (Thursday) so that she can give tax relief to billionaires like Charles and David Koch," Lawrence Democrat Margie Wakefield, who is running against Jenkins, said in a written statement last week.
Jenkins, who serves on the Ways and Means Committee which deals with federal spending, said the plan is, "about the only honest, sincere budget in Washington today and I was proud to support it."
Jenkins was responding to questions during a stop in Lawrence while Congress is on a two-week recess.
While in Lawrence, Jenkins toured the Lawrence Paper Co. plant and visited with company president Justin Hill, who said he's concerned about the impact that the Affordable Care Act will have on large employers like his firm, which will eventually come under a mandate to provide employee health coverage.
"They change the rules every five minutes and the last I knew were exempt out to maybe 2016, but I'm not even sure," Hill said. "Lots of people are making a career out of trying to explain Obamacare to people."
Jenkins also toured the Free State Brewery plant at 1923 Moodie and visited with Steve Bradt, head of brewing and bottling, who said the craft brewing industry is hoping for both state and federal tax legislation that would help them stay competitive with large beer manufacturers.
Her schedule also included a tour of Haskell Indian Nations University and a visit with new university president Venida Chenault.
Copyright 2018 The Lawrence Journal-World. All rights reserved. This material may not be published, broadcast, rewritten or redistributed. We strive to uphold our values for every story published.