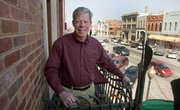 Come to find out, even tater curls piled high to the sky have a limit: 37 years.

Buffalo Bob's Smokehouse, which has operated for nearly four decades in downtown Lawrence, will close April 29.
"I have employees who are children of past employees of the restaurant," said founder and owner Bob Schumm. "I always said when I started employing their grandchildren, it would be time for me to move on. We're getting pretty close to that point."
Schumm opened the restaurant in 1977, and he believes it is the oldest restaurant still operating in downtown Lawrence. For most of those years, the restaurant served barbecue ribs, meat and piles of french fries that Schumm made famous through countless advertisements.
But Schumm, who is 67 and a Lawrence city commissioner, said he was ready to move onto other ventures.
"I'm not as inspired as I used to be," Schumm said. "But I have had a great run. My family has had great outcomes from this business, and we've had so many people wholeheartedly support us. We'll always be thankful for that."
Schumm already has reached a deal to lease part of the building at 719 Massachusetts St. to a new venture called Ladybird Diner, which will operate in the part of the building that houses the Dynamite Saloon. Schumm said he is in discussions to lease the remaining 3,000 square feet to another restaurant.
The closure will mark the end of Schumm's time in the Lawrence food service industry. He started his first restaurant, the Bull and Boar, 44 years ago in a spot behind Weaver's Department Store. He also owned and operated Mass Street Deli for 37 years before closing it in 2007.
Schumm estimates there were nine restaurants in downtown Lawrence when he entered the industry, and downtown was a far busier place during the day than in the evening.
"I was in the business when the eat-out craze really exploded in the '70s and '80s, and we did very well during that time," Schumm said. "In the 1990s, the market was pretty saturated. I would suggest right now that the restaurant market in Lawrence is fully saturated."
Schumm said he plans to stay busy after the restaurant's closing. He'll continue to own several properties downtown and he said he plans to develop a long-vacant lot he owns in the 800 block of Vermont Street.
The restaurant has about 40 employees, mostly part-time workers, Schumm said. From April 26 to April 29, Schumm said the restaurant will take 15 percent of all gross sales and divide it among the employees as a thanks for their service.
Copyright 2018 The Lawrence Journal-World. All rights reserved. This material may not be published, broadcast, rewritten or redistributed. We strive to uphold our values for every story published.