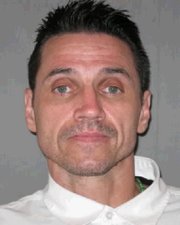 A 48-year-old Lawrence man charged with rape and aggravated kidnapping in July 2013 pleaded no contest to aggravated battery Friday following plea negotiations.
District Judge Peggy Kittel accepted Scott H. Kobel's plea and will sentence him June 20. Both Kobel's attorney, Branden Smith, and Assistant District Attorney James McCabria said that as part of the deal, both parties are asking for a 154-month sentence. The parties also agreed that the new aggravated battery charge was "sexual in nature," and that Kobel must register as a sex offender for 15 years.
During an August preliminary hearing, the victim, a 28-year-old woman, testified that Kobel choked her into unconsciousness in the early morning hours of July 14, 2013. According to Assistant District Attorney James McCabria, Kobel later admitted to choking the woman when he was interviewed by law enforcement. McCabria said testimony supported the crime as being sexually motivated.
Kobel has been in jail since his July arrest on a $100,000 bond. He has a prior conviction in Douglas County for attempted theft in 2012. He was on parole at the time of his arrest and faced a misdemeanor theft charge from 2012 that will now be dismissed as part of Friday's plea agreement.
Copyright 2018 The Lawrence Journal-World. All rights reserved. This material may not be published, broadcast, rewritten or redistributed. We strive to uphold our values for every story published.