Topeka — Kansas Education Commissioner Diane DeBacker announced her resignation Wednesday to accept a job in the Middle East.
DeBacker, 53, said she will become an advisor to the Director General of the Abu Dhabi Education Council in the United Arab Emirates and will provide counsel to the Abu Dhabi education system. The resignation is effective May 14. Deputy Commissioner Brad Neuenswander will be interim commissioner.
"I'm really leaving my comfort zone," DeBacker said, adding that she was born in St. Marys and has lived her entire life in eastern Kansas.
The announcement came at the end of the State Board of Education's monthly meeting in Topeka. Most of the agency's roughly 200 employees gathered in the board room to hear the announcement. And when Board Chairwoman Jana Shaver, R-Independence, called the vote to accept DeBacker's resignation, nearly all of the staff raised their hands to say no.
DeBacker has led the State Department of Education since October 2009 when she was named interim commissioner to succeed previous commissioner Alexa Posney, who left to become an Assistant Secretary of Education in the Obama administration.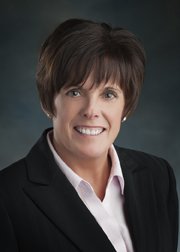 During her time as commissioner, DeBacker led the agency through several major changes including the adoption of new curriculum standards in reading and math, science and social studies. She also led the effort to obtain a federal waiver from No Child Left Behind and replace that policy in Kansas with a new system of holding schools and districts accountable for student improvement.
She also has guided the agency in developing a new system for evaluating teachers and administrators, which was a requirement of the federal waiver, and launched the continuing effort to develop a new accreditation system that will, for the first time, accredit school districts in Kansas, rather than individual schools.
Along the way, though, she also had to deal with a state Legislature that often had very different priorities for education policy.
She has been an outspoken opponent of proposed legislation that would either repeal or defund implementation of the Common Core standards. And last year, she sought an attorney general's opinion over questions about the constitutionality of a new law that exempts certain school districts from many state laws and regulations governing public schools.
DeBacker said her experience implementing major education reforms was a big factor in helping her land her new job.
"They were looking for people who are kind of at the top of their game and that have done some reforms, so I was actually probably one of many (who were recruited)," she said.
Shaver praised DeBacker's work at the agency.
"The most important decisions this board ever has to make is in hiring the commissioner of education," Shaver said. "And we did a good job several years ago (hiring DeBacker)."
Under the Kansas Constitution, the commissioner is chosen by the elected State Board of Education and is generally in charge of running the day-to-day operations of an agency that supervises the spending of half of all the money expended by state government.
Before being named interim commissioner, DeBacker had been Deputy Commissioner of the Division of Learning and Innovative Services within the agency.
During her 32 years in education she held a number of positions in the state department. She was previously an associate superintendent in the Shawnee Heights school district, a building principal in the Auburn-Washburn school district and an adjunct professor at Washburn University.
DeBacker earned her bachelor's degree in business education from Emporia State University in 1982. She earned a master's degree in curriculum and instruction from Washburn University in 1987 and a doctorate in educational administration and leadership from Kansas State University in 2002.
The contract to work in Abu Dhabi is for one year, she said, although she expects the assignment could last as long as three to five years. During that time, she said, she plans to return to Kansas regularly while her husband Severin remains here to be close to her parents, who both reside in a nursing home.
Copyright 2018 The Lawrence Journal-World. All rights reserved. This material may not be published, broadcast, rewritten or redistributed. We strive to uphold our values for every story published.