Photo Gallery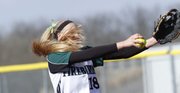 Olathe South at FSHS softball
Olathe South 8-7, Free State 2-2
Game 1
Olathe South 104 201 0 — 8 7 0
Free State 101 000 0 — 2 5 4
W – Lexi Storrer. L – Meredith Morris.
2B: Alissa Bates, OS; 3B: Lexi Storrer, OS.
Free State Highlights: Emily Bermel 1-for-3, run; Kylie Cobb 1-for-4; Emily Byers 0-for-1, sacrifice, run; Whitney Rothwell 1-for-2, Meredith Morris 1-for-3, RBI; Lily Ross 1-for-2; Remington Samuels RBI.
Game 2
Olathe South 210 040 0 — 7 10 0
Free State 100 100 0 — 2 7 5
W – Lauren Berry. L – Kaley Delg.
HR: Lindsey Delana, OS. 2B: Whitney Rothwell, Emily Byers, FS; .
Free State Highlights: Emily Bermel 1-for-3, run; Emily Byers 1-for-3, 2B, RBI; Whitney Rothwell 1-for-3, 2B, run; Meredith Morris 1-for-3; Remington Samuels 1-for-3; Cali Byrn 0-for-1, RBI; Courtney Elston 1-for-3.
The Free State High softball bats were quiet throughout most of Tuesday's home doubleheader against Olathe South, but even if they had boomed like the night sky on the Fourth of July, the Firebirds' defense would have put them in a tough spot.
During 8-2 and 7-2 losses to the Falcons, Free State committed nine errors, which helped Olathe South score nine of its 15 runs.
Although disappointed, FSHS coach Lee Ice said he was not surprised by his team's defensive struggles, particularly at this juncture of the season.
"It's no secret," Ice said. "I knew that was going to be an Achilles' heel for us coming into the season, and it cost us tonight. You're not going to beat too many teams if you make nine errors and only score two runs a game."
The Falcons (4-0) struck early in both games and put the Firebirds (1-3) in a hole before their offense could even get to the plate.
Except for one inning midway through the second game, Free State seemed to lack energy and intensity all night.
"We all kind of noticed that," senior first baseman Whitney Rothwell said. "Our focus just wasn't there tonight."
After falling victim to a four-run third inning in the opening game, the Firebirds never threatened again and were held hitless and scoreless from the fourth inning on.
In the fourth inning of Game 2, with FSHS trailing 3-1, Rothwell, Meredith Morris and Remington Samuels started what looked to be a promising rally with consecutive hits, but the Firebirds plated just one run on an RBI walk from Page Corcoran.
In the next inning, the Falcons blew the game open with four runs on four hits and two Free State errors.
After the Firebirds reached the state tournament in 2013 with one of the best seasons in school history, Ice said he thought several members of this year's squad had brought a little unnecessary pressure with them to the field thus far.
"Absolutely," Ice said. "Some of the kids that are back are trying to do more than we did last year instead of just playing and having fun. That's what we're trying to stress to them right now, and it's still early."
Asked if back-to-back convincing losses to one of the top teams in the Sunflower League could help the Firebirds exhale and play a little looser, Rothwell's face lit up.
"I really think it could," she said.
Copyright 2018 The Lawrence Journal-World. All rights reserved. This material may not be published, broadcast, rewritten or redistributed. We strive to uphold our values for every story published.