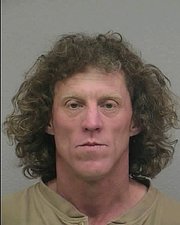 A Douglas County judge ordered a 43-year-old Lawrence man to undergo mandatory drug treatment for charges stemming from a 2013 arrest in which police found him in possession of methamphetamine and a "knuckle stun gun."
District Judge Kay Huff sentenced Michael D. Siler, who pleaded guilty in February to possessing methamphetamine. Siler will undergo treatment after completing prison sentences for several unrelated cases. He was previously sentenced to a total of 19 months in prison last year for two theft charges and will be sentenced April 22 for an unrelated 2013 assault charge.
Police arrested Siler in May 2013 while investigating a previous theft of a Coca-Cola sign and traffic light from a North Lawrence home. Police said that Siler, when contacted, tried to dispose of syringes and methamphetamine and also had a "knuckle stun gun," a type of stun gun shaped like brass knuckles and illegal to carry in public.
Siler has a multitude of previous arrests and charges in Douglas County and has been convicted of forgery, battery, domestic battery and theft between 2007 and 2012. In jail for nearly a year, Siler told Huff on Tuesday that he looked forward to getting treatment for substance abuse while in prison.
"I just want to get this all resolved as soon as possible," Siler said Tuesday in court, later adding, "if I can get the opportunity to get treatment and help with my situation, I think that will better me. I'm ready to move on."
Copyright 2018 The Lawrence Journal-World. All rights reserved. This material may not be published, broadcast, rewritten or redistributed. We strive to uphold our values for every story published.