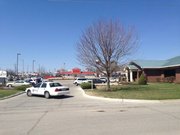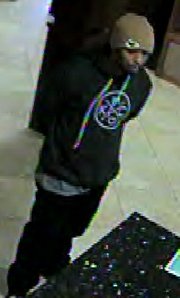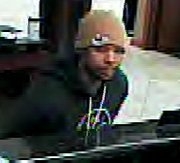 Lawrence police are trying to identify and locate a man who robbed a west Lawrence credit union Saturday morning before leaving the scene in a taxi.
According to Sgt. Trent McKinley, a Lawrence Police Department spokesman, a man walked into Truity Credit Union, 3400 West Sixth St., at 11:12 a.m. and demanded cash from a bank teller. The man did not display a weapon during the robbery and left the scene in a black taxi van after the teller complied with his demand, McKinley said.
Nearly a dozen Lawrence police vehicles were staged at the credit union shortly following the robbery on into mid-afternoon Saturday. Police remained at the scene late into the afternoon and eventually released still images of the suspect captured on a surveillance video.
McKinley described the suspect as a "light-complected" black male, approximately 30 years old and between 5-foot-9 and 5-10, weighing between 150 to 160 pounds. He was wearing a tan stocking cap and dark-colored hoodie, McKinley said. The man also was seen wearing dark shoes with white laces, a white strip along the bottom of the shoe and white on the toes and soles of the shoes.
Nobody was injured during the incident, McKinley said. In fact, few knew a robbery had occurred.
"The suspect walked out nonchalantly," McKinley said.
McKinley said police have located the vehicle and identified the driver and have no reason to believe the driver was complicit in the crime.
Police are asking anyone with information about the crime to call the department at 832-7509 or CrimeStoppers at 843-TIPS(8477). Calls to CrimeStoppers can be made anonymously and callers may qualify for a reward of up to $1,000 for information leading to an arrest.

Copyright 2017 The Lawrence Journal-World. All rights reserved. This material may not be published, broadcast, rewritten or redistributed. We strive to uphold our values for every story published.