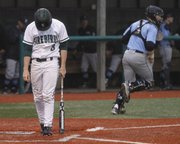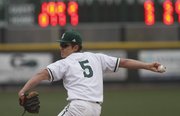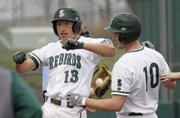 Less than two weeks into their season, Free State High's baseball players already had rallied for two victories, so the Firebirds weren't panicking Thursday evening in their Sunflower League opener, even when Shawnee Mission East held a three-run lead in the fifth inning.
The confidence in the FSHS dugout grew even more when senior right fielder Zach Bickling crushed a two-run home run in the bottom of the fifth to get the home team within a run. However, Lancers starter Max Sanborn and reliever Joey Wentz combined to retire eight of the next 10 Free State hitters to seal a 6-5 SME victory.
FSHS coach Mike Hill said there was a reason the game of catch-up didn't work this time: "You can't do that against what is a really good baseball team."
The Firebirds (3-2 overall, 0-1 Sunflower League) produced all nine of their hits against senior righty Sanborn, but he also struck out eight batters, including three of the last four he faced.
Once left-handed sophomore Wentz entered for SME (4-0, 1-0) with one out in the bottom of the sixth, he forced FSHS to hit into back-to-back groundouts. And even after the reliever walked Ryan Cantrell to lead off the bottom of the seventh, he recovered by fanning Free State's Nos. 3, 4 and 5 hitters — Cameron Pope, Bickling and Casey Hearnen — to close the game.
"You can't strike out 11 times and win a one-run ball game," Hill said.
Free State fell behind, 1-0, in the first before Hearnen tied the game in the second with an RBI single. But SME opened the top of the third with Karl Harding getting hit by a Ryan Stagg pitch and Gunnar Troutwine smacking a triple down the right field line for a 2-1 lead. Wentz drove Troutwine home with a sacrifice fly, and FSHS trailed for the remainder of the game.
"There may be a little more pressure," Bickling said of playing from behind. "But it's still a close ball game. You're gonna feel pressure either way."
The Firebirds might not have felt so optimistic, but their outfielders spent a good portion of the game robbing SME of extra-base hits and potential additional runs. Freshman center fielder Jacob Pavlyak began the highlight show by diving into the left-center gap to rob Sanborn of what looked like a certain double or triple, ending the Lancers' two-run inning. Pavlyak showed off his speed once more in the fourth, racing down a Mitchell Tyler fly ball in deep right-center.
In the fifth and sixth innings, it was sophomore left fielder Hunter Gudde's turn. Wentz led off the fifth by smashing a Cantrell pitch to the warning track, but Gudde beat the fly ball to the wall. Later, Gudde closed the sixth inning by diving to snag a shallow line drive from Sanborn that would've scored at least one run, if not two.
Hill called the play of his outfielders spectacular, noting Bickling had to make a few tricky plays in right, too, with the wind blowing that direction.
"I couldn't be more happy with the way they played from a defensive perspective," Hill said.
Added Cantrell: "The game wouldn't have been as close as it was if they were not there."
SM East 102 210 0 — 6 9 1
Free State 011 120 0 — 5 9 2
W — Max Sanborn. L — Ryan Stagg, 1-1. Save — Joey Wentz.
2B — Gunnar Troutwine, SME; Ryan Cantrell, Zach Bickling, FSHS. 3B — Troutwine, SME. HR — Bickling, FSHS.
FSHS highlights — Bickling, 2-for-3, 3 R, 2 RBIs; Cantrell, 1-for-3, RBI; Casey Hearnen, 1-for-3, RBI; Cameron Pope, 1-for-4, R; Jon Saathoff, 1-for-3, RBI.
Copyright 2018 The Lawrence Journal-World. All rights reserved. This material may not be published, broadcast, rewritten or redistributed. We strive to uphold our values for every story published.