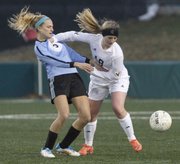 When the Free State High girls soccer schedule first came out, Firebirds coach Kelly Barah noticed almost immediately an early-season matchup with perennial power Shawnee Mission East.
That matchup came on a cold and windy Thursday night at FSHS, and, despite falling 3-0, Barah and his team got a lot out of the battle.
"We actually were excited that it was this early in the season for us to start seeing the things that we truly need to work on," Barah said.
With a roster that lists 15 seniors, including all 11 starters, the Firebirds (1-1) know they have the talent and experience to compete with the elite teams in Kansas. Thanks to Thursday's game, in which the Lancers controlled the attack for more than half of the time, the Firebirds now know what it will take to do that.
"Coming into the game, we thought we were a better passing team than what we showed tonight," Barah said. "It was a combination of not passing well, and I think we didn't do a good job on 50-50 balls, and, yeah, they are big and strong. We don't mind playing a physical game, but after a couple of tackles early we just couldn't get our rhythm going."
After peppering FSHS goalie Annie Hierl throughout the first half, the Lancers (2-0) snagged a couple of goals in the final few minutes and took a 2-0 lead into halftime.
East controlled possession and played nearly all of the first 40 minutes in Free State's defensive zone.
"It truly could've been worse in the first half, and I think our defense kept us in the game," Barah said. "We just couldn't find a way to score."
The Lancers made it 3-0 eight minutes into the second half. From there, the attack evened out, and Free State began to get more chances on offense. Even those were tough to come by, though, with the Lancers putting up a stiff back line all night.
"We definitely came into this knowing that they were a really good team, attacked well and are tactical," FSHS senior Maddie Dieker said. "They had a really strong team all around, and (they brought) intensity right off the bat."
"We were excited about our first test of the season," Hierl added. "I felt like I did some good things, but there's always things you can work on. But it's the beginning of the season, so we can grow."
Added Dieker: "We just want to regroup, get back to practice and take on the next test. Better to get this out of the way early than later when it really matters."
As for playing in conditions that featured a strong west wind and wind chills that dipped into the upper 30s, the two Firebirds showed, in unison, that they had no issue with the weather.
"Oh, we love it," Dieker and Hierl said at the same time. "This is awesome."
Copyright 2018 The Lawrence Journal-World. All rights reserved. This material may not be published, broadcast, rewritten or redistributed. We strive to uphold our values for every story published.