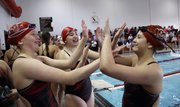 More than a few members of Lawrence High's girls swimming team have fears of missing their events. Though the young swimmers are still getting adjusted to the fast-paced varsity meets, they also showed how big of an impact they can make when they do show up at the right time.
The Lions took first place at the LHS Invitational on Tuesday afternoon, beating four other teams, including Sunflower League foes Shawnee Mission North and Shawnee Mission West.
"It was a fun meet," LHS coach Kent McDonald said. "The girls had a good time. We did well, so that's even better."
Freshman Mary Reed-Weston won the 100-yard breaststroke and was second in the 100-yard butterfly. Senior Allison Williams took first place in the one-meter dive, reminding McDonald that she's undefeated this year after finishing first at a meet last week.
Junior Nicole Oblon finished first in the 100-yard freestyle (59.58) and third in the 50-yard freestyle (27.56), earning consideration for the state tournament in both events.
"I was ecstatic," Oblon said with a laugh. "It's really nice to see the freshmen doing well because they're going to be needed, especially in the next coming years. The divers are a huge help for our win. They're important."
Junior Hannah Lee missed the meet because she was sick, which forced McDonald to mix up his the 400-yard freestyle relay team. Sophomores Genevieve Voigt and Meg Peterson combined with mainstays Oblon and freshman Brittany Archer to help the Lions win the event. In the 200-yard medley relay, sophomore Taylor Schoepf and Archer were added and led LHS to a second-place finish.
"We had to change everything around," McDonald said. "It gave other girls a chance to be up there and they came through."
LHS also won the 200-yard freestyle featuring junior Nicole Kelly, Oblon, Archer and Reed-Weston, and junior Alex Ginsberg won the 200-yard individual medley.
The Lions will go on the road to swim against Shawnee Mission South at 4 p.m. on Thursday.
---
Lawrence Invitational Results
Tuesday at Lawrence High
Team Scores: Lawrence High 351, Shawnee Mission North 309, Shawnee Mission West 299, Lansing 188, Ward-Piper 185.
LHS results

200 Medley: 2. Taylor Schoepf, Mary Reed-Weston, Alex Ginsberg, Brittany Archer, 2:10.98. 9. Chandler Sells, Vanesa Hernandez, Andrea Summey, Nicole Kelly, 2:31.37.
200 Freestyle: 3. Genevieve Voigt, 2:31.23. 5. Mary Wroten, 2:41.38. 15. Isabel Rummell, 3:16.10.
200 IM: 1. Alex Ginsberg, 2:33.94. 9. Andrea Summey, 3:15.75.
50 Freestyle: 3. Nicole Oblon, 27.56. 7. Nicole Kelly, 29.48. 10. Genevieve Voigt, 29.96. 11. Vanesa Hernandez, 30.68. 15. Meg Peterson, 31.64. 19. Olivia Jimenez, 32.27. 20. Susan Frick, 32.42. 27. Taylor Schoepf, 32.91. 28. Chandler Sells, 32.92. 31. Christa Griffin, 33.24. 32. Meredith Von Feldt, 33.60. 45. Kimberley Myers, 35.74. 45. Naomi Dale, 35.74. 50. Isabel Rummell, 36.18. 52. Taylor Nation, 36.41. 55. Sarah Easum, 36.56. 59. Bella Whittaker, 37.04. 65. Julia Randolph, 38.06. 67. Bridget Smith, 38.55. 69. Shahrzad Hajiarbabi, 38.63. 76. Jordan Myers, 40.14. 81. Baylee Shingleton, 42.95. 87. Christina Cho, 55.86.
1-meter diving: 1. Allison Williams, 182.50. 3. Ashley Ammann, 147.00. 4. Hannah Reed, 76.70.
100 Butterfly: 2. Mary Reed-Weston, 1:10.67. 10. Abbey Treff, 1:35.54. 11. Andrea Summey, 1:36.35.
100 Freestyle: 1. Nicole Oblon, 59.58. 4. Brittany Archer, 1:02.47. 5. Nicole Kelly, 1:04.13.
500 Freestyle: 2. Alex Ginsberg, 5:56.96. 7. Mary Wroten, 7:30.84.
200 Freestyle Relay: 1. Nicole Oblon, Nicole Kelly, Brittany Archer, Mary Reed-Weston, 1:51.98. 5. Meg Peterson, Vanesa Hernandez, Genevieve Voigt, Alex Ginsberg, 2:02.16. 9. Meredith Von Feldt, Christa Griffin, Abbie Treff, Susan Frick, 2:14.28. 15. Olivia Jimenez, Sarah Easum, Naomi Dale, Isabel Russell, 2:21.57. 17. Kimberley Myers, Julia Randolph, Taylor Nation, Bella Whittaker, 2:32.43. 23. Shahrzad Hijiarbabi, Christina Cho, Jordan Myers, Baylee Shingleton, 3:03.76.
100 Backstroke: 7. Taylor Schoepf, 1:24.35. 9. Meredith Von Feldt, 1:25.77. 12. Chandler Sells, 1:38.90.
100 Breaststroke: 1. Mary Reed-Weston, 1:14.29. 5. Vanesa Hernandez, 1:25.82. 10. Susan Frick, 1:35.00.
400 Freestyle Relay: 1. Nicole Oblon, Meg Peterson, Genevieve Voigt, Brittany Archer, 4:19.94. 8. Mary Wroten, Abbie Treff, Taylor Schoepf, Andrea Summey, 5:07.43. 12. Christa Griffin, Isabel Rummell, Taylor Nation, Naomi Dale, 5:32.83.
Copyright 2018 The Lawrence Journal-World. All rights reserved. This material may not be published, broadcast, rewritten or redistributed. We strive to uphold our values for every story published.