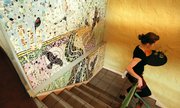 When Chuck Magerl thinks of the natural beauty surrounding Lawrence, he thinks of the Baker Wetlands, the Kaw River and the many farmlands that make up the Kansas landscape.
These elements became inspiration for Magerl, proprietor of Free State Brewing Co. who went in search of an artist who could bring these elements together in one 7-foot-by-7-foot piece of art at the brewery and restaurant.
"We have a lot of original art incorporated into our company," Magerl said. "I wanted to continue that idea with a mosaic or mural that featured all the things I love about our region."
Enter Lawrence artist Lora Jost.
Jost, a Kansas native, has spent two decades as an artist, has made hundreds of works in several mediums and has taught the occasional art class at the Lawrence Art Center.
"I had seen some of her smaller projects and I really loved her mosaics, " Magerl said. "They were exactly what I was looking for for this project."
Magerl knew it was a huge project to undertake, but he also knew Jost was perfect for the job.
"She was hesitant at first," Magerl said. "It was quite a larger space than she was used to, but I think she became intrigued with the idea and she agreed."
The two brainstormed about a design for nearly three months. In the end Jost presented to Magerl a sketch that perfectly encompassed the beauty of the region.
Jost had included the Baker wetlands and its cattails, the Kaw River, fields of wheat, and several native birds including the redwing black bird, the scissor tail flycatcher and, of course, the crow.
The work, titled "Nearly Spring," depicts the region at the time of year when things are just starting to bloom.
"It's a beautiful transition period," Jost said.
Like any artist, Jost wanted to put her own mark on the work, so she added elements that would make it more surreal.
"I wanted to bring in an element of imagination and dreaming," Jost said. "I added the spirals around the birds and I think that brings the viewer into a new sort of thoughtful space."
Once the plan was finalized Jost got to work on the project.  Magerl and his team set up a studio at their production site where Jost worked for the next six months to complete the mosaic.
"It was a lot of slow, calculated work," Jost said. "I worked nearly full time cutting and placing all of the tiles."
Jost said much of the work goes into finding the right pieces to make up the mosaic.
"It's kind of difficult to collect all of the pieces you need," Jost said. "You can't always find the colors you want so you're kind of at the mercy of what you can actually find."
Many of the pieces Jost used are ceramic dishes she found at thrift shops or garage sales, but others are marbles and shells found on beaches that she's collected over the years. Jost even included a piece of a bottle featuring the Free State Brewing prairie falcon logo.
The mosaic was installed at Free State Brewery on Jan. 1, in time to help celebrate the brewery's 25th year.
"It feels like our lives are crafted out of bits and pieces put together to create a whole image," Magerl said. "And that's what the mosaic represents."
Copyright 2018 The Lawrence Journal-World. All rights reserved. This material may not be published, broadcast, rewritten or redistributed. We strive to uphold our values for every story published.