Obamacare is here.
A major piece of the 2010 Affordable Care Act will be rolled out Tuesday. But what does that mean for you, the Lawrence consumer? Here are answers to basic questions about the nation's new health care law.
What is the Affordable Care Act?
The 2010 health care law often called Obamacare, even by the president himself, aims to provide coverage to many of the estimated 48 million Americans without health insurance. It tries to accomplish that goal by expanding the Medicaid program for the poor, removing restrictions from who can buy insurance and requiring that all Americans carry some form of health coverage while subsidizing it for those who can't afford it.
Who will be affected?
The law will mainly impact people who don't currently have insurance through a job or government program (Medicare, Medicaid, Indian Health Service, Veterans Affairs). For instance, many of the 350,000 uninsured Kansans, including 15,200 in Douglas County, will now be eligible for tax credits to use toward purchasing coverage.
What starts Tuesday?
Beginning Tuesday, any Kansan, regardless of preexisting medical conditions, can obtain coverage on the insurance marketplace, at HealthCare.gov or by calling 800-318-2596. The open enrollment period lasts through March 31. The next open enrollment period is from Oct. 15, 2014, to Dec. 7, 2014. People can get insurance during closed enrollment only if they have a certain life-changing event, such as a marriage, birth of a child or loss of a job. The marketplace also lets you know if you qualify for Medicaid or the Children's Health Insurance Program.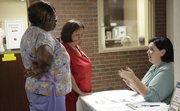 But I thought Kansas wasn't participating in Obamacare?
The state has opted neither to expand Medicaid eligibility to 138 percent of federal poverty level nor create its own insurance marketplace. In the case of the latter, the federal government stepped in to design and operate Kansas' marketplace.
What kind of insurance can I buy on the marketplace?
The marketplace will offer a variety of plans from two insurers — Blue Cross Blue Shield and Coventry. The coverage options include bronze, silver, gold and platinum, ranging from the lowest premiums and coverage amounts (60 percent) to highest premiums and coverage amounts (90 percent). Catastrophic coverage will be available to Americans 30 and under or with low incomes.
Plans offered on the marketplace must cover 10 essential health benefits: outpatient care, emergency room visits, inpatient care, prescription drugs, maternity and newborn care, mental health and substance abuse treatment, preventive services and chronic disease management, lab testing, rehabilitation services, and pediatric dental and vision care.
The federal government has delayed for a month the rollout of a separate online marketplace on which small business owners can purchase subsidized coverage for their employees.
Who can buy insurance on the marketplace?
Any American citizen not in prison can shop for a plan on the marketplace. However, only people who make between 100 and 400 percent of the federal poverty level (between $11,490 and $45,960) will be eligible for tax credits, which can be used at the time of purchase, to offset the cost of the premiums. Also ineligible for the subsidies are those who are offered qualified insurance through their employer that doesn't exceed 9.5 percent of their income.
When am I required to have insurance under Obamacare?
Nearly every American will be required to have health insurance on Jan. 1. Plans have to be bought on the marketplace by Dec. 15 to kick in the first of next year. People who go without coverage in 2014 will be levied fines of $95 or 1 percent of their income — whichever is greater — on their tax returns. The fine will increase to $325 or 2 percent of income in 2015 and $695 or 2.5 percent of income in 2016.
Who is excluded from the mandate?
Those excluded from having to carry insurance are members of religious groups opposed to health insurance, undocumented immigrants, prisoners, Americans who either don't make enough money to file taxes or would have to spend more than 8 percent of their income on premiums, and American Indians eligible for care through the Indian Health Service.
Wasn't part of the law delayed?
The Obama administration pushed back for a year the provision of the law that required that businesses with more than 50 full-time employees provide them with health insurance.
Where can I get more information or help signing up for insurance?
Assistance will be available at various community agencies. Specially trained navigators, for instance, can provide information on and help people enroll in the marketplace.
Rosilyn Wells, a navigator based at Heartland Community Health Center, 1 Riverfront Plaza, Suite 100, can be reached at 785-841-7297, ext. 219, or rwells@heartlandhealth.org. Heartland also has certified application consultants (who, unlike navigators, cannot sign people up on the marketplace) available.
There will be three navigators at the Lawrence-Douglas County Health Department, 200 Maine St. For assistance, call 785-843-0721 or stop by the clinic between 8:30 a.m. and 5 p.m. on Mondays, Wednesdays, Thursdays and Fridays and 9:30 a.m. and 5 p.m. on Tuesdays. The clinic is closed daily between 11:30 a.m. and 1 p.m.
There are also several Affordable Care Act information forums planned, with dates and locations to be announced.
Copyright 2018 The Lawrence Journal-World. All rights reserved. This material may not be published, broadcast, rewritten or redistributed. We strive to uphold our values for every story published.