Only in Lawrence 2013
The Journal-World asked Lawrenceians to tell us about the unsung heroes in the community, resulting in the annual
Only in Lawrence
feature.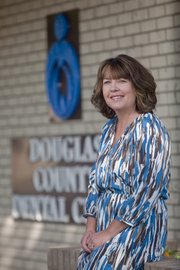 Julie Branstrom might be the executive director of the Douglas County Dental Clinic, but she's quick to note that it's the entire team of people and the support from the community that makes everything happen.
Still, it's hard to deny the tremendous impact she's had on the once-tiny organization since she took the reins in 2004.
The executive director of a nonprofit wears many hats. Branstrom manages all administrative aspects of the clinic including financial management, fund and program development, community outreach, vendor negotiations, facilities management and other related duties. She plans events, develops programming, acts as human resources manager, coordinates with other nonprofits and does whatever else needs doing around the clinic. It's all in a day's work.
Everything she does supports the mission to provide quality dental care to low-income and uninsured residents of Douglas County.
When Branstrom started at the clinic it was in a tiny space that was off the beaten path in west Lawrence. She didn't even have an office. A desk in the hallway was her home base, as she notes with a smile, "It's pretty tough to do confidential business or work with staff right out in the open." She knew immediately they would need to move.
The agency moved to a location near the hospital, where they more than doubled their space as well as their staff. Branstrom remembers thinking that space would last them a good, long time. But then, after just a few years, she knew that the need in the community was great and they'd have to add staff soon, which meant another move.
In December 2012 they moved to their current location, a spacious and freshly remodeled spot on Yale, near Iowa Street, where they are on track to log more than 8,000 visits this year, serving more than 3,800 individuals. The clinic currently has 19 staff members, including three full-time dentists and three full-time hygienists.
Under Branstrom's direction, they have launched a large mobile outreach program to reach individuals who otherwise would or could not come in to the brick-and-mortar building. There is also a "Free Dental Day" every year for which a large crowd forms even before the doors open.
"We've been very intentional about our mission to get more care to more people," she said.
Branstrom's skills and talents are many. Her background in education makes her uniquely passionate about tending to the physical needs of children so that their emotional and intellectual needs can also be met.
Regarding the success and growth of the dental clinic, Branstrom gives all the credit to her staff. "I have amazing people here. It's just the right mix. None of it would happen without their generosity, patience and dedication."
Copyright 2018 The Lawrence Journal-World. All rights reserved. This material may not be published, broadcast, rewritten or redistributed. We strive to uphold our values for every story published.