Only in Lawrence 2013
The Journal-World asked Lawrenceians to tell us about the unsung heroes in the community, resulting in the annual
Only in Lawrence
feature.
Chuck Loveland had a decision to make.
The second-year medical resident had an offer to teach at Children's Mercy Hospital in Kansas City, Mo., and another one to join a practice in Lawrence. He chose the latter. "I got into pediatrics to take care of children and watch them grow up," he told his wife.
Thirty-seven years later, Loveland — known throughout the years as Dr. Loveland, Dr. Lovely, Dr. Lovee and Dr. Chuck — has watched an estimated 6,000 kids in Lawrence grow up. Some of them stuck with him into their 20s; for other children, he ended up treating their kids and grandkids.
Loveland, 66, retired at the end of August from Pediatric and Adolescent Medicine in Lawrence after nearly four decades of sore throats, earaches, flu bugs, colds, well-baby checkups and camp physicals.
And even though he passed on the opportunity to teach for a living, he ended up becoming a mentor of sorts anyway. He advised dozens of pre-med students and was shadowed by junior high and high school students interested in the medical field, even though he never got paid to do it. An assistant dean at the Kansas University medical school dubbed his proteges "Loveland's scholars." Loveland even nudged his own son-in-law into pediatrics and mentored and helped pick the doctor who is replacing him.
"I enjoy teaching young people. I enjoy being part of their education. Students teach me as much as I teach them," Loveland said.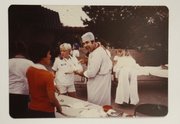 The road to Lawrence
Loveland grew up in north-central Kansas. He originally wanted to be a highway patrolman after one rescued him after he got his foot stuck in a vent. But then he saw the impact a local general practitioner had on his community and knew he wanted to be a doctor. He eventually realized how much he liked working with kids.
Loveland met his wife, Mary, during their undergraduate years at KU. She grew up in the Kansas City area and hoped to live in a town bigger than the one Chuck grew up in (Miltonvale, population 539). On June 1, 1976, after going to medical school at KU and doing a residency at Children's Mercy, Loveland joined Vern Branson and Helen Gillis' pediatric practice in Lawrence.
"We came to Lawrence because my husband wanted a community he could feel committed to," said Mary Loveland. She eventually dove headfirst into Lawrence as well, getting involved in the Parent-Teacher Association, serving on the school board, running youth sports programs, and becoming a master gardener. The Lovelands often host social events at their country home in rural Lawrence.
When the Lovelands are out in the public, Mary often sees kids shyly waving at her husband and nudges him to say hi. "They're used to only seeing him when they're sick," he said. "When they see him when they're feeling good, they know he's a good guy."
What does she think made her husband a successful pediatrician?
"I think he really puts his patients first: the little kids, the children. He respects the parents — they're his partners in trying to take care of the health of their children," she said.
David Ambler's two daughters, Laura and Sarah, started going to Loveland as children and continued to, even as college students.
"Chuck is the most authentic teddy bear any child has ever known," said Ambler, a retired vice chancellor of student affairs at Kansas University. "He's a very laid-back, easy-going kind of guy. He has a very calming affect on children. He's just got a velvet touch in his professional work as well as his private life."
Mentoring extended to family
Chris Koster always wanted to be a doctor. But after spending time with Loveland as a medical student and seeing how he interacted with children and their parents, he decided to go into pediatrics. He came full circle as he eventually joined Loveland's practice last year. What did his father-in-law teach him?
"I learned patience. I learned that you have to be nice to people and treat them the way you want to be treated. You just have to listen," Koster said.
He added, of Loveland: "You can't ask for a better physician, steward of the community, champion of health — he's just a wonderful person."
LuAnn Baumchen, a Lawrence Memorial Hospital nurse who has known Loveland for three decades, said the doctor always took the time to make sure every patient understood exactly what was wrong with them and how to treat it.
"He's been a wonderful mentor and has always taken good care of the kids of Lawrence," said LuAnn Baumchen, a Lawrence Memorial Hospital nurse who has known Loveland for three decades. "He's very warm and caring. He's really had a positive affect on the medical profession in general."
At a recent retirement party, Loveland's colleagues posted various Lovelandisms on the walls: "It's Loveland. I'm on my way … Can you bring my babies to the nursery?" "Hey kids." "Good job, girl."
"He's been a benefit to the city for many years." said Terry Riordan, a Lawrence pediatrician who practiced alongside Loveland for 30 years. "He has devoted his life to this. This is going to be difficult for him to walk away from. He loves what he does and he does it well."
Now that his medical career has come to an end, Loveland realizes that the goal he first set as a new doctor in his 20s really did come true.
"What I really like about the practice is you really do see kids from birth up their adult life for most of them. You get to see kids grown and develop, how they learn, how they make decisions. If they get ill or injured, you get a chance to help them. Taking care of kids is a hoot," Loveland said. "For a lot of my peers who are not pediatrics, crying babies sends shivers down their back. It doesn't scare me. I figure they're crying for a reason: They might be hurt; they might be sick in some way. It's a bit of a challenge to sort out those noises. It's never intimidating. You just look at it as a friendly challenge."
Copyright 2018 The Lawrence Journal-World. All rights reserved. This material may not be published, broadcast, rewritten or redistributed. We strive to uphold our values for every story published.