Only in Lawrence 2013
The Journal-World asked Lawrenceians to tell us about the unsung heroes in the community, resulting in the annual
Only in Lawrence
feature.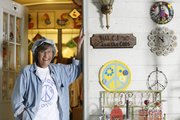 As a longtime Lawrence activist, CJ Brune may see picket lines and poverty lines better than most. But she's come to realize there is one type of line she may not recognize.
"I think maybe one of the ingredients it takes to be a good activist is that you don't have the good sense to know when you shouldn't cross a line," Brune said. "But I've actually never been scared in any of the situations I've found myself in."
And there have been plenty. Brune, 67, has been in Lawrence since 1964 and has been an activist for peace and progressive causes almost from the day she arrived.
"Even before I knew who she was, I would always notice her at any type of progressive event I went to," Lawrence resident Phil Minkin said. "There was always this wacky-looking woman who wore a funny-looking hat, and then I got to know her, and she just amazes me. She has so much energy and dedication."
Sometimes, there has been so much energy that it resulted in a trip to the courthouse. On two occasions, Brune has been arrested for protests in Lawrence — at a 1965 sit-in at then-Kansas University Chancellor Clarke Wescoe's office, and again in 1969 when she and others stormed Memorial Stadium to disrupt the spring review of KU's ROTC unit.
But the protest Brune may be best known for was in February 1972 when she was part of a group of 32 women and five children who occupied the East Asian Studies building at KU one dark evening. The group sent a message to KU administrators that they wouldn't leave the building until the university agreed to demands for better treatment and equality for women. The movement and the women in it became known as the February Sisters.
Brune remembers that she and several other members of the group had attended a speech a few days earlier by noted feminist Robin Morgan. The radical activist nearly filled the Kansas Union, where she talked about many of the same issues that were on the minds of Brune and others: lack of women's health care, lack of child care and lack of pay equality. At one point, Morgan asked all the men in the audience to leave, and they did.
"She told us women, 'It sounds like you have done enough talking. Why don't you do something about it?'" Brune recalls.
A few women knew a janitor at the East Asian Studies building who agreed to let them in after hours, and the protest was on.
"I never really expected what we did to be remembered much beyond the next week," Brune said.
Instead, KU officials began negotiations with the group, in part because the KU campus already had been marked by major unrest and university leaders were keen on heading off another bit of bad publicity, Brune said.
The outcome of those discussions included women from the group serving on the search committee for a new affirmative action director, the beginnings of the Hilltop Childcare Center and progress on hiring the first female vice chancellor at the university, Brune said.
Last year, KU held a series of events to commemorate the 40th anniversary of the February Sisters movement.
Brune, however, said she's equally proud of some of the causes she's been involved in since then: leadership roles with the Lawrence Coalition for Peace and Justice, which holds frequent peace rallies in downtown, registering new immigrants to vote through the Lawrence-Douglas County League of Women Voters and advocating for public transit in the community.
Brune also has been active on many political campaigns for progressive candidates and for protests against Gov. Sam Brownback and conservative causes. Brune makes no secret that she is disappointed with the direction of the political winds, and she says that even Lawrence has become less progressive over the years.
"A lot of the issues that are considered far left now are things I used to consider too bourgeois to even mess with," said Brune, who is a retired budget officer and business manager with KU.
But Brune said Lawrence still has the capacity to rise up and make its voice heard. She said she was "blown away" by the uprising from residents in 2011 when the Kansas Department of Social and Rehabilitation Services announced plans to close its Lawrence office. When hundreds of residents protested the move, local government leaders negotiated a deal with the state to keep the social service office open.
Brune said there are still plenty of day-to-day opportunities for people to get involved in social causes in Lawrence. Recently, she has been volunteering at the Lawrence Community Shelter, providing rides around town to people staying there.
"I really wish I had gotten to know that world out at the shelter much sooner," Brune said. "The work out there is so rewarding. Poverty and all of its related impacts still doesn't get enough attention in Lawrence."
But that's through no lack of effort from Brune, Minkin said.
"What makes CJ special is how much she cares about the disenfranchised," Minkin said. "I tell people all the time that I'm one of the luckiest guys in Lawrence. I'm a white male American.
"You don't get any higher on the pecking order. But CJ realizes that there are people of color, single mothers, people with addictions, people with health problems, people living in poverty, and she never forgets about them."
Copyright 2018 The Lawrence Journal-World. All rights reserved. This material may not be published, broadcast, rewritten or redistributed. We strive to uphold our values for every story published.