Photo Gallery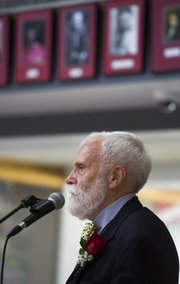 Lawrence High School Hall of Honor
The Lawrence High School Alumni Association inducted U.S. District Judge Monti Belot III, Colorado State Senator Nancy (Knox) Todd, U.S. Court of Appeals Judge Sri Srinivasan and Special Olympian Brady Tanner to its Hall of Honor Sunday.
There were just a couple of tears shed here and there over the course the Lawrence High School Alumni Association's Hall of Honor ceremony Sunday. But the best feel-good, hold-back-the-tears moment unquestionably came at the end.
"I gotta breathe," said Gary Tanner, before he spun around, away from the audience, to collect himself. He stood at the podium with his son, Brady Tanner, a Special Olympian who has trouble speaking. Gary, reading for Brady, turned back around when ready and launched into the speech's conclusion.
But it was Brady who delivered the last line.
"It's a good day to be alive," he said.
Brady Tanner, who graduated in 2001, joined three others in LHS's 2013 Hall of Honor class: U.S. District Judge Monti Belot III, class of 1961; Colorado State Senator Nancy (Knox) Todd, 1966; and U.S. Court of Appeals Judge Sri Srinivasan, 1985.
Born in India, Srinivasan, who some think is a possible candidate for the next available seat on the U.S. Supreme Court, said that although he now has spent more of his life living outside of Lawrence, this town, which he grew up in, "still counts as home."
"I and my sisters owe so much to Lawrence, to the schools here and to Lawrence High School in particular," he said. "We played sports, we played music, we made great friends and, frankly, we just thrived.
"Whatever we may have done since leaving here is due in significant part to the amazing jumpstart we experienced in this community and school."
Fifty-two years after graduating, Belot admitted to the audience that he could no longer remember many specifics of his high school days, especially after losing track of his yearbooks some time ago. But he was able to recall three teachers who made an impression on him, specifically Gertrude Ruttan, an English instructor whom he called "far and away" the best teacher he had in his entire career as a student.
"She was tough, demanding," he said. "If you messed up in Miss Ruttan's class, she drew a circle on the chalkboard and you had to stand with your nose in it.
"Over the years, I've been amazed at how some lawyers can butcher the English language. I can assure you that none of them were Miss Ruttan's students."
Todd, the daughter of former Lawrence Superintendent Carl Knox, said the most valuable lesson she learned from her time at LHS was not to sit back and wait for someone else to find a solution.
She relived several of her favorite classes and what she learned from them, including an intramural sports arrangement for girls.
Todd also said a high school diploma means more than the simple fact that an individual completed her coursework. She said it means you have "wrapped up memories with friends and teachers and figuring out where you're going in life."
In introducing Brady Tanner, his former special education instructor Deb Engstrom said that when Tanner took his first weight lifting class in high school, he told her he couldn't squat.
Tanner has Rubenstein-Taybi syndrome, which impacts his motor skills and his ability to learn and speak.
Now, years later, he can squat 650 pounds, and collected three gold and silver medals in weightlifting at the 2011 World Special Olympics in Athens, Greece.
Through his father, Tanner thanked many friends, teachers and LHS football coaches for being nice to him.
Tanner, without the assistance of his father, said his motto is "work hard and win."
Copyright 2018 The Lawrence Journal-World. All rights reserved. This material may not be published, broadcast, rewritten or redistributed. We strive to uphold our values for every story published.