Only in Lawrence 2013
The Journal-World asked Lawrenceians to tell us about the unsung heroes in the community, resulting in the annual
Only in Lawrence
feature.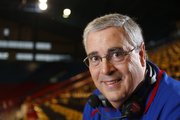 For decades now, Bob Newton has had a center-court seat at nearly every Kansas University basketball game, and a bird's-eye view from the press box at KU football games.
But as he enters his 30th season as the producer/engineer for the radio broadcasts of KU men's football and basketball, Newton has a confession to make.
"People always assume I'm a big sports guy," Newton said. "While I have become a bit of a fan, I'm really not a sports guy. I'm a radio guy."
Folks who know Newton say he is more than that: He's the ultimate detail guy.
"If you need to know that something is going to be done right, you call Bob," said Hank Booth, who worked with Newton for more than 20 years when both were executives at Lawrence radio stations KLWN and KLZR. "When I would come up with an outlandish promotional idea, Bob's role was to nod and tell me what a great idea it was, except that it was illegal or the FCC wouldn't think much of it.
"He was the detail guy, and he is great at that."
Word has gotten out, because Newton is nearly in constant demand from groups and organizations that want him to serve on their board or provide some sort of assistance.
"At one point, I was on 13 boards at once," Newton said. "Once you start doing that stuff, then they start asking you to do it more."
Newton said the key is to find ways to volunteer on projects that you have a natural interest in. For example, Newton had always been fascinated with severe weather. So, he ended up serving on the Douglas County Emergency Management Board and now is a part-time duty officer for the organization. From 1979 to 1994, Newton served as chairman of the Emergency Management Board and continues to serve as a board member today.
Then there are airplanes. Newton likes them, and he got his pilot's license at the Lawrence Municipal Airport. The only logical thing for Newton to do was to spend the next 26 years serving on the city's Aviation Advisory Board, which oversees issues at the airport. Newton served on the board from 1985 to 1990, took a one year break, and then he served again from 1991 to 2012.
And there is theater as well. Newton has loved plays and live performances since his days in high school. Now that Newton, 65, no longer is working at either KLWN or KLZR, he has more time to devote to that passion at Theatre Lawrence.
"Lately I've been designing sound for the shows," Newton said. "On our production of 'Footloose,' I'm responsible for 14 wireless microphones, two keyboards, drums and a whole bunch else."
On a day that he stopped to talk with a reporter, he actually was preparing to write a new program for the theater's heating and cooling systems.
"It is always useful to have somebody who can connect and operate equipment, and that is not a lot of people's favorite thing to do," Newton said.
But Newton has made a career of it and is getting high accolades for it these days. The Kansas Association of Broadcasters in October will induct Newton into the Kansas Broadcasters Hall of Fame and will award him the KAB's distinguished service award.
In his role as producer/engineer, Newton runs everything from the commercial breaks to the set-up and operation of all the equipment that sends the broadcast from the game site back to the network's broadcast center.
"It is important stuff in Lawrence," Newton said of ensuring KU fans can hear their Jayhawks. "We hear about it when we screw up, but fortunately it doesn't happen a lot. In 29 years, I have never failed to get the broadcast on the air. Knock on a lot of wood for that."
Copyright 2018 The Lawrence Journal-World. All rights reserved. This material may not be published, broadcast, rewritten or redistributed. We strive to uphold our values for every story published.