Only in Lawrence 2013
The Journal-World asked Lawrenceians to tell us about the unsung heroes in the community, resulting in the annual
Only in Lawrence
feature.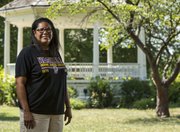 Leandra Galindo doesn't have children, let alone grandchildren, but every day there's a group of students calling her granny and she's more than happy to help them in any way she can.
Need a ride to the airport? Granny can take you. Are you short on money to go out to eat with friends? She'll lend you a few bucks.
Galindo is the recreation assistant at Haskell Indian Nations University, but her past and present students say she goes above and beyond her job description.
"I wouldn't say no to them," Galindo said. "They're my students but I call them my kids. If they need to talk to me about something or need a ride to the store, I do it."
Galindo has been working at Haskell since August 1998. After she graduated from Northwestern Oklahoma State she wasn't sure what kind of career she wanted to pursue. She took a string of odd jobs until her sister-in-law, who worked at Haskell at the time, called her to tell her about the recreation assistant opening. When she got the call saying she had been selected, she accepted the job on the spot and quickly moved from Oklahoma to Lawrence.
Galindo got her nickname Granny from a student. When she'd play basketball with the students the name started to get popular and soon enough everyone began to call her Granny, including some co-workers.
"Every year new students come along and call her that even though the students who first called her that haven't been there in 14 years," former student Cassie Kelly said.
Kelly was a student at Haskell in 1999 and even though it's been years since she's attended the school, she and Galindo are still friends. Kelly said their friendship is not uncommon – Galindo still talks with most of her students and always makes an effort to keep in touch through Facebook.
"The little things Granny does, she doesn't get a whole lot of recognition and she doesn't ask for a whole lot," Kelly said.
As the recreation assistant, she's in charge of coordinating and planning activities for the whole student body, but former and current students say that Galindo does much more than that.
"She's that person that's always there that we know we can go to if we need help," senior Tiffany Sullivan said.
Galindo helps students with anything from opening up the gym to letting them store items at her home during summer to being their partner in a game of basketball when they need an extra member.
Senior Lethaniel Loley said he's gone to Granny for school advice or for a laugh, and she always delivers. Whether he's having a good or bad day, Galindo knows how to make him smile and she's even bought him lunch and dinner on occasion. No matter what Loley might need, Galindo is the person he can depend on.
"She's approachable, that's Granny. She has that connection with students here that not a lot of teachers or administrators have," Sullivan said.
Galindo's goal is to show students the importance of a college education and make them as comfortable at Haskell as possible. Her students say she's helped to make Haskell home by giving them a family at the school.
"I can look at her as a mother for me at Haskell," Loley said. "She's one in a million. I haven't seen anyone like Granny."
Copyright 2018 The Lawrence Journal-World. All rights reserved. This material may not be published, broadcast, rewritten or redistributed. We strive to uphold our values for every story published.