Only in Lawrence 2013
The Journal-World asked Lawrenceians to tell us about the unsung heroes in the community, resulting in the annual
Only in Lawrence
feature.
Amber Nickel has the energy and enthusiasm of many of her customers. Who are of the four-legged variety.
Nickel worked in television but mostly tended bar to pay the bills when she decided to go the entrepreneurial route a few years back. After she and her sister saw the need for a dog wash in Lawrence, the two took their father's advice and started their own. Eight years later, they have a simple mission.
"Our goal is to make owning a dog as awesome as possible and to make Lawrence, Kan., one of the best places in the world to own pets!" said Nickel, 37.
A lot has changed since the early days of Pawsh Wash, when it was just a self-serve dog wash, the Nickel sisters were the only employees and Amber kept her side job as a bartender. Now, she employs 20 people between her now full-service dog-grooming salon and her newly opened second location, Pawsh Pet Health Market, and has plans to expand even more in the future.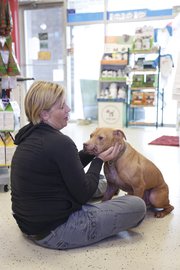 Over the years, the Wichita native has grown more comfortable being involved in the community she arrived in to study journalism at Kansas University and, save for a brief hiatus as a "ski bum," has never left. She is now a leading advocate of local animal-related causes, whether through her work with the Lawrence Humane Society or Game Dog Guardian, or her sponsorship of animal-friendly events and activities in Lawrence. She also serves on various boards and committees, from Junior Achievement to Leadership Lawrence to the local St. Patrick's Day Parade.
"I definitely milk Lawrence, Kan., for all it's worth," she said, in her typical down-to-earth fashion. "You can travel about and go to all kinds of different towns that are super fun to visit but there aren't too many other places that are better to live."
Nickel has even started passing on some of her giving spirit to her 5-year-old son, Cash. She recently teamed him up with one of his friends, Johnny, to host "the Johnny-Cash Birthday Bash," a fundraiser for the Ballard Center. "I'm trying to instill in him too the importance of community service," said Nickel, who lives with her son in Lecompton but plans to move back to Lawrence soon. "They ended up raising a lot of money and a lot of food." Cash did, however, want to take home a box of Cinnamon Toast Crunch for himself (he is only 5).
Nickel, who used to do TV production work for Channel 6 in Lawrence, is a bit of a marketing whiz, a tireless promoter of all things Pawsh Wash and pets, and a roman candle of a personality.
"She's very outgoing, the life of a party. She's one of those people who can be an TV and handed a mic and just start talking like nobody's business," said Nickel's sister and Pawsh Wash co-owner, Nichele, 41, a nurse from Eudora. "She loves to get involved in anything she feels like is a good cause, to the point of almost overextending herself. She just can't say no."
Nickel's love for animals extends to her personal life. She has two dogs — Hercules, a pitbull rescue from Game Dog Guardian, and Bean, a Boston terrier who Nickel had a love-at-first-sight moment with at a pet store in Texas — and recently adopted Spam (aka Sir Spamalot) from the Lawrence Humane Society to serve as Pawsh Pet Health Market's official shop cat.
Through her work with animals, Nickel has come to realize just how important pets are to not only the people of Lawrence but Americans in general.
"In less than a generation's time, the dog as a pet has gone from hanging out in the backyard to sleeping in our beds with us," she said. "People are giving us their family members to take care of. We take this very seriously and it's a joy for us to be able to help pets be healthier and happier and help their parents enjoy them better."
Nickel even gets rave reviews from her staff. On a recent day at the new Pawsh Pet Health Market, employee Lakin Griffin said he has Nickel listed in his phone under "Best Boss Ever" — and proved it. "No, really, it's the truth," said Griffin, who has been working between the two Pawsh locations since the spring. "I've had a lot of bosses."
Keri Lauxman, a local high-school teacher who nominated Nickel for Only in Lawrence, described her friend as a "community freedom fighter who gives more of herself to improve Lawrence than anyone I know."
"Only in Lawrence can you find someone like Amber Nickel — Lawrence loyalist, townie treasure and adamant advocate for the rights of two and four-legged creatures alike," Lauxman said. "She's just an all-around interesting character and Lawrence is lucky to have her."
Copyright 2018 The Lawrence Journal-World. All rights reserved. This material may not be published, broadcast, rewritten or redistributed. We strive to uphold our values for every story published.