Only in Lawrence 2013
The Journal-World asked Lawrenceians to tell us about the unsung heroes in the community, resulting in the annual
Only in Lawrence
feature.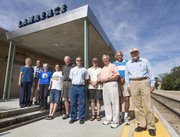 Carey Maynard-Moody's first experience with the Burlington Northern Santa Fe Depot in East Lawrence started out like a Stephen King tale.
"I got off the Amtrak train with my two boys in 1981 and took a look around at what was supposed to be this gateway to the city," Maynard-Moody recalled. "Honestly, I almost got back on the train."
But the story in the past year has turned into one of those against-the-odds, inspirational, tug-at-the-heart-strings novels. In June, the city was awarded a $1.2 million grant that will allow for a major restoration of the 1950s era building at Seventh and New Jersey streets.
That story has several authors, but perhaps none bigger than Maynard-Moody's citizen's group Depot Redux.
"Sometimes projects like these need a community champion, and they are a great example of that," said Diane Stoddard, an assistant city manager who has served as the city's liaison for the depot project.
The group, which has about 20 active members, was formed in 2008 after Maynard-Moody attended a conference in Topeka about the future of passenger rail service in the region.
"The speaker looked at me and said 'Why don't you do something about your station in Lawrence?'" Maynard-Moody said. "He looked so disgusted. It was about that time that I learned the cabbies around town were calling it the Stephen King station.
"I went to another training session and thought: 'I can do this with some help.'"

The group has undertaken a variety of projects at the depot including: regular cleanings of the building, planting and caring for landscaping around the building and for several weeks one summer they would host a weekly concert for train passengers who had a 30-minute layover in Lawrence at about 11:30 in the evening.
"We called them On-Time Performances," Maynard-Moody said. "People would get off the train and get a slice of East Lawrence."
Early in its history, group members would volunteer to get up and unlock the station doors each day for the early-morning train that arrives a little before 6 a.m..
But as they spent more time at the depot, group members began to realize there was quite a bit they weren't going to be able to fix on their own.
"The doors down there aren't very good, the restrooms are not very good, the roof is not very good," said Marty Kennedy, a group member who did the daily unlocking of the doors for about two years. "But when this is done, I think it is going to be a real nice gateway into the city."
For awhile, though, it didn't look like that was ever going to be the case. Maynard-Moody admitted that she was close to giving up on the project, after the city had applied for and been rejected for a state depot-restoration grant several years ago. The city was told the project didn't fare well because the city didn't yet have ownership of the building from the Burlington Northern Santa Fe Railway. City commissioners, though, weren't willing to take ownership of the depot without first having grant money in hand to do necessary repairs. That situation hadn't changed when Stoddard applied for the 2013 grant.
But something else also hadn't changed: The community still had a passionate group of people advocating for the depot.
"Grant-makers take notice of community enthusiasm," Stoddard said. "Certainly community commitment is a big piece of this."
Maynard-Moody said while the cleaning and other tasks undertaken at the depot have been important, she said probably the most challenging work has been done at City Hall and other forums where the depot project gets discussed.
"I think persistence and keeping the faith has been a big part of the success," Maynard Moody said. "The decision-makers always had a face in front of them whenever the depot came up. They knew we weren't going to go away."
Now, group members are looking forward to watching the improvement at the depot, probably sometime in late 2014. They will include a new roof, restrooms, heating and cooling systems, electrical work, masonry repairs, and improvements to the parking lot and sidewalks.
Maynard-Moody said she's eager to see those improvements, but she said the depot already has taken a giant step forward from those days when it almost made her turn around and leave the city.
"I can tell you that it is a much more special place now than it used to be," she said, "because a lot of us have put our heart and souls into it."
Copyright 2018 The Lawrence Journal-World. All rights reserved. This material may not be published, broadcast, rewritten or redistributed. We strive to uphold our values for every story published.