Photo Gallery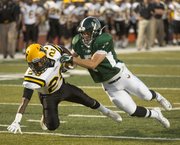 Free State football vs. Shawnee Mission West
Summary
SMW FSHS
First downs 10 15
Rushes-yards 29-181 46-208
Passing yards 77 181
Total offense 258 389
Return yards 50 49
Fumbles-lost 4-2 3-1
Penalties-yards 4-33 4-25
Score by quarters
SMW 7 0 0 7 — 14
FSHS 7 14 14 0 — 35
Individual statistics
Rushing
SMW: Mario Louis 17-104 TD, Andre Maloney 6-49, Justin Hobbs 2-20, Rashaun Owens 1-11, Mitchell Wade 1-3, Juanyae Stallings 1-0, Greg Stephan 1-minus-6.
FSHS: Stan Skwarlo 26-128, Joe Dineen 15-56 TD, Joe Lane 5-24.
Passing
SMW: AJ Verdini 4-11-77 TD interception.
FSHS: Dineen 8-15-181 3 TDs.
Receiving
SMW: Hobbs 1-33, Maloney 2-29, Wade 1-15.
FSHS: Keith Loneker 3-82 TD, Khadre Lane 2-60 TD, Lucas Werner 1-18, Joel Spain 1-11, Blake Winslow 1-10 TD.
HOW THEY SCORED
First quarter
7:48 — Mario Louis 4 run. Tyler Thayer kick. (SMW 7, FSHS 0.)
5:30 — Joe Dineen 9 run. Alex Trent kick. (SMW 7, FSHS 7.)
Second quarter
2:21 — Keith Loneker 27 pass from Dineen. Trent kick. (FSHS 14, SMW 7.)
0:08 — Khadre Lane 26 pass from Dineen. Trent kick. (FSHS 21, SMW 7.)
Third quarter
8:06 — Justin Narcomey 70 interception return. Trent kick. (FSHS 28, SMW 7.)
4:15 — Blake Winslow 10 pass from Dineen. Trent kick. (FSHS 35, SMW 7.)
Fourth quarter
7:18 — Justin Hobbs 33 pass from AJ Verdini. Thayer kick. (FSHS 35, SMW 14.)
-->
-->
Victims of a playoff beatdown in last season's state semifinals against Shawnee Mission West, Free State High's football players knew all too well how the defending Class 6A state champions can capitalize on mistakes.
The Firebirds (ranked No. 2 in 6A by Kpreps.com) could have slipped into the same terrible pattern after opening their first possession against SMW on Friday night by losing a fumble. Instead, they forged ahead, kicked adversity in the teeth and turned three second-half takeaways into a pair of touchdowns in a 35-14 homecoming trouncing of the No. 1 Vikings.
Senior FSHS running back Stan Skwarlo fumbled the ball on the third play from scrimmage, and West senior linebacker Andre Pettit recovered it on Free State's 43-yard line. A few AJ Verdini passes for first downs later, senior SMW running back Mario Louis scored an easy four-yard rushing touchdown.
On a night full of huge plays for the Firebirds (4-0), coach Bob Lisher thought the moments that followed the 7-0 SMW lead — less than five minutes into the game — might have made the difference.
"What I really liked," Lisher said, "was we were able to come back and score right after we turned the ball over and make it 7-7."
On the following FSHS possession, senior quarterback Joe Dineen picked up a first down on the ground, completed a 42-yard, play-action pass to senior receiver Keith Loneker and ran for a nine-yard score, which allowed homecoming king and kicker Alex Trent to tie the game with an extra point.
Dineen, who completed eight of his 15 passes for 181 yards and three touchdowns to go with his 56 rushing yards, said Free State finally delivered the complete effort it had been searching for this season.
"After they scored, pretty much from there on out we controlled the ball game," Dineen said. "We kept the ball, kept momentum, (created) turnovers. That's what you need. You've gotta keep the ball out of a great team like that's hands. And score as much as you can."
Some crucial points came quickly just before halftime. On an eight-yard drive keyed by a 41-yard run by Skwarlo, Lisher decided the Firebirds would go for it on fourth-and-12 from the SMW 27. Dineen again found Loneker, who shed a tackler and turned to score the go-ahead touchdown with 2:21 left in the second quarter.
Though Louis (17 carries, 104 yards) opened the next drive with a 24-yard rush for SMW (3-1), the FSHS defense responded by shutting down the next three plays and forcing a punt. That's when FSHS senior receiver Khadre Lane began celebrating his 18th birthday in style. First he picked up 34 yards on a slant from Dineen to get the Firebirds in striking distance with less than 30 seconds to go in the half. Then Lane beat SMW cornerback Andre Maloney deep for a 26-yard touchdown reception with eight seconds on the clock.
"It was supposed to be a post, and I saw him jump on it," said Lane, who had one catch in the three prior games, "so I stopped and went to the back of the end zone and jumped up and caught it. Caught it finally. It feels good."
Loneker said those two touchdowns in the final three minutes showed what FSHS is capable of doing.
"We've got playmakers," Loneker said. "Khadre … amazing. He hadn't scored all year and stepped up. … We put it together. We're gonna really push from here."
The Vikings needed something positive to start the second half, but instead they suffered a fumble on the opening kickoff, and Firebirds sophomore Sam Skwarlo had the ball grasped firmly once officials pulled the bodies off the dog pile.
Free State couldn't take advantage of its great field position at the SMW 32, but once the home team's defense took the field, the scoring soon continued. Verdini and Louis picked up first downs, and it appeared SMW might be ready to make it a one-score game, but a FSHS substitute came up with the defensive play of the night.
Verdini, according to Dineen, called an audible at the line of scrimmage and then dropped back looking for a quick pass to his left. When the quarterback fired, Free State sophomore linebacker Justin Narcomey, playing his second down of varsity football, read it like a book, picked off the throw and ran 70 yards down the sideline for a touchdown that put his team up, 28-7, with 8:06 to go in the third.
"Every day we give him a hard time about catching the ball," Loneker said. "You've gotta make sure you catch the ball. He gets in on one play and makes a play. None of us expected him to ever do that. We're all happy about that."
Things fell apart even more for the defending state champs from there. Two plays into their next drive, after Louis ran for what would have been a first down, senior FSHS linebacker Blake Winslow popped the ball out on a tackle, and Dineen picked up the free football, taking it to the SMW 31.
Six plays later, Dineen swung a pass out to Winslow in the right flat for a 10-yard touchdown and a four-score advantage with 4:15 left on the third-quarter clock.
The rest of the night, all Free State had to do was hand the ball off to Stan Skwarlo, determined to make up for his early give-away. The senior, who was replaced by Joe Lane for a couple of first-quarter series, finished with 26 carries for 128 yards — which didn't surprise Lisher.
"He ran hard," the coach said. "Sometimes you've gotta step back and take a deep breath, and that's kind of what he did. He was so amped up he had a hard time gripping the ball early. He calmed down and started hitting holes and running the way we know he can."
Nobody from SMW would keep Skwarlo or the Firebirds down. Not on this night.
"We answered back," Lisher said. "When you can do that, it sends a message to the other team, and it sends a message to our team that we can handle it."
FSHS will play at 7 p.m. Thursday at Olathe North.
Copyright 2018 The Lawrence Journal-World. All rights reserved. This material may not be published, broadcast, rewritten or redistributed. We strive to uphold our values for every story published.