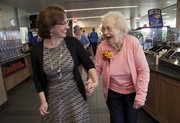 Lenoir Ekdahl sat at the table directly in front of the podium Friday afternoon at the grand reopening of Ekdahl Dining Center, more commonly known as Mrs. E's.
Others in attendance approached her to swap stories, shake her hand, take a photo or give her a hug. Most were current or past dining employees, Kansas University administrators, old friends or people who knew her simply as "Mrs. E."
Several KU officials spoke about the history of the dining center and its renovations before Ekdahl, now 95, cut the ribbon on Friday afternoon.
One of the dozens who came up to meet the guest of honor was Adam Morel, a 22-year-old student from Overland Park, who was eating lunch a few tables over from where Ekdahl sat. He introduced himself, shook her hand and said, "I wanted to meet Mrs. E."
"I've been here for four years, and have been eating there since I was a freshman," Morel said. "I appreciate what she's done. She's got a great reputation, and people say her name a thousand times a day. It was awesome to actually meet her."
Ekdahl began working as KU's first residential dining director in 1956. During her 34 years as director, she opened and helped operate seven cafeterias on campus.
"Mrs. Ekdahl established a culture in which students reigned supreme," said Tammara Durham, Vice Provost for Student Affairs. "She offered tasty, nourishing, affordable food, and, as you can see, that tradition continues today with this final renovation. It continues to pay tribute to Mrs. Ekdahl's tremendous legacy."
Nona Golledge, the current Director or KU Dining Services, said Ekdahl returned to campus in September 1993 to celebrate the original opening of Mrs. E's.
Friday's grand reopening was held to celebrate the completion of the $5 million renovation, which began May 20 and ended Aug. 5.
Shortly after classes ended for the spring semester, the 20-year-old hall was stripped to bare walls. The renovation included equipment updates, redesign and redecorating. New types of food were introduced, as well as a section dedicated to students with food allergies or special dietary needs.
The new features also include two tributes to Ekdahl. One is a station called Lenoir's Classics, which offers comfort foods such as meatloaf and pot roast. The other is the name of the dessert station: Delights.
"Delight is my middle name," Ekdahl said.
The hall, located in Lewis Hall on Daisy Hill, reopened its doors on Aug. 23. Sheryl Kidwell, Assistant Director of Residential Dining, said the hall has served more than 150,000 guests since its reopening.
"We'll serve just under 1 million people by the end of the year," Kidwell said.
After the ribbon cutting, attendees sampled menu items and took a tour of the area. Ekdahl linked arms with Golledge to have a look around.
Though Mrs. E's and KU dining services have undergone drastic changes since it was in Ekdahl' hands, she said she was happy with what she saw Friday afternoon.
"I haven't been here in a long time," Ekdahl said. "When I was here in ancient times, when we had three meals a day: breakfast, lunch and dinner. And they were served at certain hours. They changed it a lot, but it's for the best."
Copyright 2018 The Lawrence Journal-World. All rights reserved. This material may not be published, broadcast, rewritten or redistributed. We strive to uphold our values for every story published.