Photo Gallery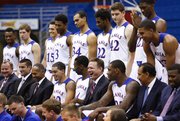 Kansas basketball Media Day
Images from Media Day with the Kansas men's basketball team.
Kansas University basketball coach Bill Self has been impressed with the eight players in his recruiting Class of 2013.
"This is the most talented class we have signed," Self said Wednesday at KU's media day.
The eight players are freshmen Brannen Greene, Joel Embiid, Conner Frankamp, Frank Mason, Wayne Selden and Andrew Wiggins; senior transfer Tarik Black, who is eligible after graduating from Memphis; and sophomore Hunter Mickelson, who must sit out a season after transferring from Arkansas.
"You know Julian (Wright), Brandon (Rush), Mario (Chalmers) and Micah Downs (in 2005) … that was pretty good. You got three McDonald's All-Americans plus Brandon who would have made it, but he wasn't eligible for it. So I don't know if when you talk about four quality guys, I don't know if we have any guys with more quality than that, but we do have more," Self added. "I do think there are eight pretty good players. So it's without a question the deepest class we've had. Of course it remains to be seen if it's the best one, but I certainly think it has potential to be the best."
With so many outstanding players, there's a chance somebody could be red-shirted.
"I foresee us talking about it with maybe one or two guys," Self said. "The possibilities of who could potentially do such a thing is limited because we have already had some guys either transfer or red-shirt and that kind of stuff. So I wouldn't be surprised if one guy red-shirted and things like that. It won't be because we tell 'em they have to, but because they, and their family, think it is best for their career.
"I still — after seeing Travis (Releford) and Jeff Withey (go through the red-shirt year) — I can't understand if you're not in the mix and top nine or something like that, why as a young kid you wouldn't consider that, because if you just follow what they did, those guys had unbelievable careers just because they were patient. Sometimes I think that's something that kids need to look at, but I don't know who that would be right now. It depends how things play out during practice sessions."
Self was asked to comment on signees not named Wiggins: "Wayne Selden, you guys will see, he's prepared. A large part of that is because physically he is prepared. Brannen Greene is a talented player. Conner Frankamp, if there is somebody that can shoot better, I would like to see it because he can shoot it maybe as well as anyone we have had here. (If he) can he do it under game conditions remains to be seen, but we certainly think he can.
"I think Tarik Black may have been the big steal of any recruiting class in America because here is a guy that is a potential draft pick. You get all the maturity, and he already knows how to work. Coming in for one year, he knows it has to be a banner season for him, otherwise the transfer wasn't worth it. He's hungry.
"Joel (Embiid) is probably as talented of a big kid as we have had because he's so good on his feet. There are a lot of guys who have the 'potential' tag around their neck but haven't done anything yet. Frank Mason, he's a guy that went to prep school, and we were begging him to come here. You guys will understand why once you see him play. We are excited about our entire class. Andrew (Wiggins) was the icing on the cake, but this class would have been one of the better classes even if Andrew hadn't have come."
Self on the possible rotation: "It doesn't really matter because we will probably only play nine, but it could be a different nine. I think it's one of those teams that could be a different nine depending on who's playing well. It is a team where we play a solid nine in every big game, which we probably haven't done in years past."
Wiggins was asked if he knows about all the great players in KU history: "I'm going to get to that. Before the year is done, I'll get (learn) all the history," Wiggins said.
He was asked if he could be one of the greats. "Hopefully when all is said and done, I'll be … " he said, his voice trailing off.
Self on whether he feels more pressure than usual in Year 11 at KU: "Since I have been here, I have never felt any pressure," he joked.
"I think there is pressure being a coach at a high-profile place all the time. But is there extra pressure? No. I think that my staff has done a pretty good job in developing guys, and certainly a lot of it falls on me, I know, but we aren't going to please everybody. Certainly we are going to go through ups and downs where people think we shouldn't be going through downs, but usually the downs are what allow us to be good in the end.
"So we won't get hung up on that, but is there pressure for us to be good? There is every year. But the ultimate responsibility still falls — if you're talking about developing individuals — on the individuals, and we've got to put them in the right spots and certainly allow them to utilize their skill set and motivate them a certain way, but still they've got to want to work. If wanting to work is not part of the equation, then the individuals will never live up to the hype. But if this group wants to work, I do think there is a chance they could all be pretty pleased in the end."
Freshman Selden on he and Wiggins being a dynamic frosh duo: "We have two different types of games, but we are both fast-paced, in-your-face type of players. So I think it will work well."
Sophomore Perry Ellis on the season: "I feel that we have a group of guys that all want to work. I feel that is the key to being good. Everyone wants to get better. Coach has talked to us a little bit about all the hype surrounding the team this year. He told us to just play our game. And don't worry about everything else."
Copyright 2018 The Lawrence Journal-World. All rights reserved. This material may not be published, broadcast, rewritten or redistributed. We strive to uphold our values for every story published.