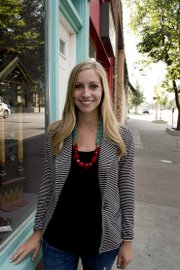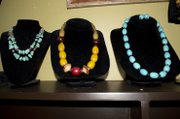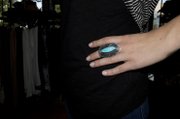 There's nothing better than wearing one-of-a-kind jewelry to begin a new fashion season.
I love jewelry pieces that have an edge to them and that stand out in a unique way. Large chain retailers don't always provide that type of uniqueness, so I went for a local store on my jewel hunt.
If you're looking for the same thing, you'll definitely want to check out Prairie Pond at 11 W. Ninth St. The store just screams unique with its endless assortment of handmade jewelry. They also carry clothes and other accessories such as intricately beaded clutches, handbags and scarves to name a few.
When I'm looking for that standout piece of jewelry, I make sure I can wear it with several different pieces in my wardrobe.
When I spotted a chunky two-toned stone necklace, I knew that would be one of my favorite pieces. I love the colorblock style and the bulky look. This would brighten up an all-black outfit or complement other colors for a fun and funky look. I love it for fall, too, because of its darker tones and different-sized stones.
Another necklace that caught my eye was a pale lavender dripping stone necklace. It has a vintage look that intrigued me. I had to feature this one because it totally fits my style, and I could see myself using it to dress up a plain T-shirt, or throw it on with my favorite dress for a night out.
There's no way I could stop at those two necklaces, so I found a few more that were on my radar. I spotted two more beautiful turquoise necklaces, and a yellow-and-red-beaded stone necklace that would be perfect for fall.
Prairie Pond also has an amazing ring collection. They have endless rings, each handmade by local and national artists.
I absolutely love their turquoise rings because they offer everything from gaudy, chunky rings to understated and dainty. They also have stone rings in many different shades to suit your style needs.
The intricate detail in the rings makes them stand out, and you can see and feel the high quality in each ring. These are pieces you'll definitely want to hold on to because of their timeless look and feel.
Whether you're looking for that gaudy cocktail ring to complement your little black dress, or just some simple rings for your jeans-and-tee look, this is definitely the place to find them.
This place has everything from turquoise stones to simple silver, which is why I love it because you're guaranteed to find something that you won't necessarily find anywhere else. So if you're in the market for some seriously stylish jewelry, I would advise you to take a peek inside Prairie Pond; you won't be disappointed!
— Emily and Elizabeth Kennedy are twin sisters and fashion bloggers who share a blog called Fashion Column Twins. They can be reached at fashioncolumnblog@gmail.com.
Copyright 2018 The Lawrence Journal-World. All rights reserved. This material may not be published, broadcast, rewritten or redistributed. We strive to uphold our values for every story published.