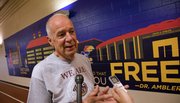 Although retired from his post as a Kansas University student affairs official for 11 years, David Ambler stays in touch with the building named after him, the Ambler Student Recreation Fitness Center. He helped plan its 10-year anniversary celebration and visits it every weekday morning to speedwalk on its suspended track.
But when the time came for that anniversary gathering Wednesday, he still hadn't a clue that a mural had been placed on the wall along the track in his honor.
"I've been gone the last five days," Ambler said as he stood by the big, mostly blue mural. "I had no idea. It's crazy."
The mural, standing 34 feet wide and 8 feet tall, bears an oft-repeated saying of his: "Remember your nest; return to it often. And never forget this unique bird that has set you free," with an outline of the recreation center as the backdrop.
In the lower left corner of the mural, under the word "free," is the quote attributed to "Dr. Ambler."
Ambler led a distinguished career as KU's vice chancellor for student affairs from 1977 to 2002. Before retiring, he helped secure the $17 million needed to build the recreation center. He later obtained emeritus status.
Rebecca Goering, communications coordinator for KU Recreation Services, said the staff has long aspired to memorialize Ambler's quote, which Ambler said he first uttered at a student leadership award ceremony in the 1980s.
"It just gives a little more understanding of who he is as a person," Goering said.
Two members of KU's Student Design Center, juniors Kristen Myers and Katie Whiteman, designed the mural. Goering said she had yet to receive the final bill from the students and the company who installed it, but said the money came from KU Recreation Services's marketing budget, which is supplied by Student Restricted Fees and generated revenue.
Prior to the unveiling, when a group of about 20 attendees mingled within sight of the mural covered by paper, Ambler said he thought the wall had been damaged. When the curtain came down, Ambler stood up from his seat and clapped with his mouth slightly open.
The recreation center was renamed in Ambler's honor in 2008. And in January 2010, he received the Lawrence Chamber of Commerce's 2009 Citizen of the Year award for his volunteer work.
"They keep doing things so I can't be anonymous," Ambler joked as he approached the mural. "It's beautiful."
Copyright 2018 The Lawrence Journal-World. All rights reserved. This material may not be published, broadcast, rewritten or redistributed. We strive to uphold our values for every story published.