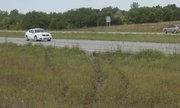 The tire tracks look fresh, the grass still flattened. They run to the right from the highway shoulder, then start to curve left as the driver skidded through grass and dug into soil.
If Dan Strimple's hunch is right, they're the all-too-regular consequence of heavy rain, in this case on Thursday night, along a patch of K-10 in Eudora.
Strimple says there have been plenty of other tracks like these during the past two years. Altogether, he said, he's seen 15 or 20 vehicles in the ditch near this strip of the highway.
After seeing so many tracks and marooned cars following heavy rains, Strimple knew something wasn't right. "I thought, 'Uh oh. We got a problem,'" he said.
Strimple started noticed regular appearances of skid marks and cars off the road near this particular stretch of highway after the K-10 lanes were resurfaced in 2011. Strimple, who is co-owner of Cutter's Smokehouse in Eudora, thinks the culprit is a slight depression in the pavement in the left eastbound lane on K-10.
The patch is just east of the Winchester Road overpass, less than half a mile from the Church Street exit, alongside Eudora Baptist Church.
Strimple said he called the Kansas Department of Transportation about six months ago. Whoever he talked to seemed excited to get the tip, he said, but he has seen the highway pool up since then.
On Thursday Kimberly Qualls, a spokeswoman for KDOT, said she hadn't heard about the complaint. A crew is scheduled to inspect the stretch of road early next week, she said.
All Strimple cares about, he said, is getting the road fixed. "If they can get the water off the highway, it would help. There's no doubt about it," he said.
Even within a few yards, no dip in the highway is visible. You can't feel it driving over the pavement in dry weather. But Strimple says it's there, and deep enough to fill up like a shallow pool when heavy rains come.
He's seen the highway pool up himself, passing in the right lane. He's even tried driving over it himself in wet weather, though taking it at a slow speed because he's seen the consequences of not doing so. He didn't have trouble with it, but then again he drives a hulking Yukon XL. It's the smaller vehicles he worries about.
He hasn't seen or heard of any full-on wrecks yet, but he worries a car could overturn if it hits a pool too fast, or that a hydroplaning vehicle could cross the median and end up in a head-on collision.
"I haven't heard of anyone getting hurt yet, thank God," he said, "but we can only press our luck so far."
Copyright 2017 The Lawrence Journal-World. All rights reserved. This material may not be published, broadcast, rewritten or redistributed. We strive to uphold our values for every story published.