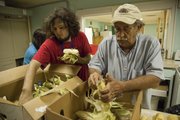 It's been a good year for homegrown tomatoes. In some circles, you can't avoid having paper sacks full thrust upon you.
Not that I often complain about being given homegrown tomatoes. And the people in the long line in front of me on this particular Thursday weren't complaining, either. In fact, I don't think I have ever been thanked so much for such a simple task.
My job on this particular day at L.I.N.K. — the Lawrence Interdenominational Nutrition Kitchen downtown — was to hand out homegrown tomato slices and other veggies for diners to put on their hamburgers.
I passed out more than 150 of those tomato slices, and it was the easiest "job" I've had in months, mainly because a group from Lawrence's Plymouth Congregational Church did the real work. They organized the volunteers, cooked the food and, most importantly, did the dishes.
A group from the church volunteers at L.I.N.K. once a month. There are groups all over the community just like them. L.I.N.K., in the basement of the First Christian Church at 10th and Kentucky, serves a free midday meal for anyone who wants to eat it four days a week — Tuesdays, Thursdays, Saturdays, Sundays — and all holidays.
Church groups are the most frequent volunteers, but you'll also find Boy Scout troops, employees of private businesses and others. The KU women's basketball team is even scheduled to participate in the coming weeks.
From a distance, though, you have to wonder how this ever works. Volunteers show up to serve more than 200 meals a year, and they do so year after year after year?
But up close, standing in a line handing out food, no one seems to have such worries. After all, L.I.N.K. is in its 28th year, so these volunteers spend their time worrying about other matters. Like, don't touch that lid without an oven mitt. Or, how many hot dogs to cook? (About 120 was the answer.) And my favorite, where's the jelly? (Hopefully in a jar, was the response.)
But worry about volunteers showing up to feed the hungry? Nah.
"I think L.I.N.K. is going to be here a long time, said Susan Osborn, one of the volunteer coordinators for Plymouth. "It kind of has become a Lawrence thing at this point."
•••
There has been a real question about L.I.N.K.'s future, though. In December, the Lawrence Community Shelter moved from its longtime home directly across the street from L.I.N.K.. The shelter moved to the far eastern edge of Lawrence and began serving its own meals at its facility.
People wondered whether there would still be a demand for L.I.N.K. Greg Moore, L.I.N.K.'s director never really wondered. He knows a fact about L.I.N.K. that many people refuse to believe.
"The homeless have always been a fairly small portion of who we serve," Moore said. "Most of these people have a home. They are just living off a very fixed income."
But after the shelter moved in late December, the number of meals served at L.I.N.K. did go down. They dropped to 2,930 meals in January, down from about 3,400 in December. They hit a low of about 1,500 in May, but have been on a steady climb since. In August, they had risen to about 3,100.
"We still need everything we've always needed," Moore said.
And that includes volunteers. The people serving the food may not worry much about the future of volunteers, but Moore gets paid to worry about it.
There is some math surrounding L.I.N.K. that would cause concern. The kitchen serves more than 200 dinners a year, yet the number of volunteer groups stands at about 45, Moore said.
More concerning is the age of many of the volunteers, and especially the coordinators who often do the hard work of rounding up people to donate food and come serve at the kitchen.
Moore said he has one church group where the average age of the volunteers is about 80.
"A lot of the coordinators are getting up there in age," Moore said. "I know several of them who would like to retire, but there is just no one waiting to take over for them."
Osborn urges more people to try volunteering at the kitchen. And while there, she suggests people pay attention to the line, and how many people come back and back for more food. I saw people who easily ate four hamburgers, two hot dogs and large piles of salad, cottage cheese and fruit. What I didn't see is a line full of obese people.
"I think if people would volunteer," Osborn said, "they would see that there really is a significant population in this town that is underfed."
•••
Mark Osborn is doing the odd task of pouring the juice from a can of peaches into a large drinking pitcher. It is the surest sign yet that we're feeding people today, not numbers.
Osborn, a retired doctor, has been volunteering at the kitchen for about seven years, long enough to know there are quite a few people who come through the line who like to drink the peach juice. So, he pours it into a pitcher.
It is about people, and you see all types. Through the line on my day was a fellow who wore socks on his hands and a mask over his mouth and nose, a guy in a Santa suit, and a man who specifically asked for no onions because they were too hard to eat without teeth.
Volunteers came in all types, too.
Kristine Unruh-Jones had a day off work, so she came to volunteer at the kitchen. She was put to work making peanut butter and jelly sandwiches.
"How many should I make," she asked.
"More than you can ever imagine," Osborn told her.
So, she made piles and piles of them, and felt good doing it, she said.
"I just feel like I've done something important in my day, rather than just something for me," Unruh-Jones said. "And it doesn't have to be complicated. I'm making peanut butter and jelly sandwiches."
There were at least two students helping out. There was Andrew Bireta, a freshman at Bishop Seabury, who had the day off for parent-teacher conferences and was working on meeting the school's public service requirement. Then, there was eight-year-old Hayden Slough. He heard about the kitchen at church, and asked his parents if he could help. He got assigned to hand out desserts, which I think is a job that had more fringe benefits than the tomato platter.
There were veterans of the kitchen on hand as well. Darrell Falen and Dwight Hilpman both have been volunteering for more than 20 years. Hilpman said the simple nature of the task appeals to him.
"I mean, you can show up with a few gallons of milk, and people think you are a savior," he said.
But there is something even simpler about the task that keeps him and others coming back.
"It doesn't get much more basic than sharing a table with someone," Hilpman said. "This is about stewardship, and really that is what we're built to do as human beings."
Whether it be through peanut butter and jelly sandwiches made on a day off, dessert served by eight-year-old fingers, or homegrown tomatoes handed out by a hack with a pencil behind his ear.
They really were good tomatoes. I know they did me a lot of good, and I never even ate one.
Copyright 2018 The Lawrence Journal-World. All rights reserved. This material may not be published, broadcast, rewritten or redistributed. We strive to uphold our values for every story published.