Photo Gallery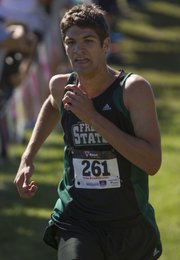 FSHS cross country at Baldwin Invitational
Baldwin City — Cole Stallard epitomized the state of surprise as his eyes widened and his jaw dropped.
The Free State High junior couldn't help himself upon hearing what the boys cross country team had accomplished Saturday morning at the Baldwin Invitational.
"Are you serious?" Stallard asked, learning his team had finished first at Baldwin City Golf Course.
Free State's girls occupied three of the top four spots in the 4K race — freshman Emily Venters won, in 14:41.9, sophomore Claire Sanner took second (14:42.97) and senior Bailey Sullivan finished fourth (14:59.49) — but that kind of success is expected for the girls, runners-up by two points to Aquinas, because they are considered one of the best teams in Class 6A.
The FSHS boys, unlike the program's girls, had not won a meet this season and only had one runner — junior Ryan Liston (16:52.58, seventh place) — finish in the top 10 in the 5K. So the guys couldn't help losing their cool to commemorate the occasion. Runners high-fived, shouted and pumped their fists. Liston grabbed his smart phone and called his mom to tell her the good news.
The Firebirds actually had the same number of points (63) as runner-up St. Thomas Aquinas, but they won the tie-breaker, because their No. 6 runner, junior Curtis Zicker (17:44.37), finished ahead of the Saints' sixth runner.
The team title even caught Free State coach Steve Heffernan off guard — not because he didn't think the boys were capable, but a victory wasn't the focus after the team placed ninth at its previous meet.
"A week ago, we didn't race very well, so we talked about racing, race strategy and living up to the tradition of racing hard," Heffernan said, "like we've had kids do at Free State for years."
Liston felt much more focused for the Baldwin 5K than he had in Nebraska the previous week.
"Before the race, I could tell it was gonna be better, because I actually got more nervous before the race than I did last time," Liston said. "When I'm not nervous, that always makes me think, 'Oh, something's wrong.' It's not normal."
FSHS sophomore Ethan Donley (17:02.93, 10th place) said Liston's pace helped his teammates, too.
"Once he gets ahead," Donley said, "you try to catch up to him. He's kind of the rabbit, I guess."
Junior Thomas Becker took 12th for the Firebirds, sophomore Tanner Hockenbury finished 21st and Stallard was 22nd.
Free State's girls enjoyed even more individual success, with five runners in the top 19: Venters, Sanner, Sullivan, freshman Kiran Cordes (17th) and senior Molly McCord (19th).
But even that wasn't enough to topple Aquinas, which had senior Bailee Cofer take third and five runners occupying places eighth through 12th. Competing for the third time this fall, it was the first time Heffernan's girls didn't earn a team title.
"I thought the girls raced really well. They've been on top of their A-game the last three weeks," their coach said. "To lose by a couple points to Aquinas is nothing that's gonna set us back, because it was a great race."
No one enjoyed the competition more than teammates Venters and Sanner, who battled back and forth for first place.
"It's usually like that," Venters said after her first varsity championship, "and she's beaten me the last two, but I just had determination to win. The last little bit I had more in me, and I sprinted to the end."
Sanner thought until the last instant she could overcome her younger teammate, and she said the friendly competition between them serves as great motivation.
"We can both push each other to get better," Sanner said after both runners set personal records. "If we keep moving together, we're not only helping ourselves, but we're helping the team a lot."
Added Venters: "There's a rivalry when we race. We definitely want to beat each other, but in the end we're good friends."
Copyright 2018 The Lawrence Journal-World. All rights reserved. This material may not be published, broadcast, rewritten or redistributed. We strive to uphold our values for every story published.