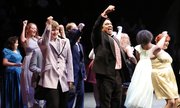 Annette Cook has been waiting a long time for this opportunity.
"I've wanted to direct a show here forever," she says. "When I got the call, and they asked me, I was over the moon. I didn't even care what show it was."
The show is "Footloose," the stage adaptation of the 1984 blockbuster film. The movie featured veteran actors John Lithgow and Dianne Wiest and made a star of Kevin Bacon. A seminal film for many in Generation X, it's the kind of show that can be daunting to take on.
Cook, though, was unfazed. A veteran performer at Theatre Lawrence and an experienced director in other venues, she wasn't worried about expectations.
"I think you have to handle it from where your generation sees it now," she says of the movie's popularity.
The show tells the story of Ren McCormick, who moves from Chicago to a small town where dancing is illegal. The charismatic minister of the local church is grieving the loss of his son, who died after coming home from a rock concert. Sweeping the townsfolk up in his anguish, he has everyone convinced that modern music and dancing are sinful temptations that lead one down a path of destruction. Ren, a talented dancer, collides headlong with the small-town politics, packing "Footloose" with sensitive issues.
"You've got 'how do we deal with grief?' and 'when do we let our children grow up?' and 'what's the right role of religion in government?'" Cook says. "There's also sexual abuse in Chuck and Ariel's relationship."
Played by Noelle Olson, Ariel is the teenage daughter of Reverend Shaw Moore. Like her father, she grieves her brother's death, but she is also a wild child, rebelling against her father's laws. She's drawn to Ren's big-city background, and that causes trouble between her and Chuck, her abusive boyfriend, played by Christoph Cording.
"There are some scenes between Chuck and Ariel that are pretty intense," Cook says. "Christoph and Noelle have been really brave about it. They're willing to try anything to make it work."
Cook prefers putting things in the actors' hands, letting them try what they think is necessary.
"We just started and let it go where it needed to," she says of the show's themes. "We talked about it and let it grow."
The same is true she says of Jim Hurd's — who plays Shaw Moore — deft handling of the complexities of a character trying to find his way after an unspeakable tragedy.
"Shaw comes off as being in charge," she says, "but it's obvious he is coming from feelings of loss. Jim doesn't portray him as a screaming-and-yelling, fire-and-brimstone type, but you see the contrast of where he is at the start of the show versus where he is at the end."
But if it's loaded with deep issues, "Footloose" is also a dance musical.
"I'm anxious for audiences to see the dances," Cook says enthusiastically. "They are phenomenal. People are going to be blown away."
Spend time talking to Cook, and you can't help but be drawn in by her passion — for theater, for her actors and for putting a show like "Footloose" onstage.
"I love the process," she says. "I love to see the people grow. I love handing it over to them and saying, 'It's yours now.'"
And so guiding a mixed cast of former '80s kids, former '90s kids and teenagers who weren't even alive when the movie came out through one of an entire generation's most beloved films is no challenge for her. Neither is navigating sensitive issues in the show's themes. She trusts her actors and helps them find their way to their characters. She roots for them and takes pleasure in their success.
"I'm very excited for them to get it on its feet," she says. "It's time."
"Footloose" opens Friday and runs Saturday and Sunday, Sept. 26-29 and Oct. 4-6. Curtain is at 7:30 p.m. except Sundays when it is 2:30 p.m. Tickets are available by calling the box office at 785-843-7469 or online at theatrelawrence.com.
Copyright 2018 The Lawrence Journal-World. All rights reserved. This material may not be published, broadcast, rewritten or redistributed. We strive to uphold our values for every story published.