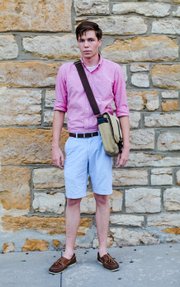 Name: Royce Harrison
Age: 18
Relationship status: Single
Hometown: Baldwin City
Time in Lawrence: 3-4 years
Occupation: Math student
Dream job: Financial analyst on Wall Street
What were you doing when scouted? Hanging out a coffee shop.
Describe your style: For the summer, I kind of dress preppy. It's kind of vintage and I try to be fairly stylish. Sometimes, I incorporate military dress but overall I try to be classy and timeless, not that I simply am.
Fashion trends you love: I like how clothing has gotten slimmer recently. Ten years ago suits were kind of baggy, but it's not like that anymore. … I really like desert boots, leather shoes and how people pay more attention to the kind of shoes they're wearing. I also like timeless looks like your regular oxford cotton button-downs.
Fashion trends you hate: I dislike the uniforms that some freshmen are wearing on campus where they have their Uggs, yoga pants, KU graphic tees and their North Face backpacks. I'm not a fan of graphic tees and clothing with obvious brands and logos on them like Lacoste and American Eagle: it's kind of a status thing that I don't really like.
Fashion influences: I like a lot of social networking sites like Reddit, seeing what other people wear and deciding what I like. I like to shop at places like the Gap, Urban Outfitters and Weaver's. I really like Burberry but I can't afford any of it.
What would you like to see more of in Lawrence? People with good personalities, people that are friendly and people that are not afraid to try new things or styles.
Less of? Less plaid shorts and less basketball shorts! Also, less crazy drunk people on Mass. Street in the mornings.
Tattoos or piercings: None
Whom do people say you look like? I get told that I look like the lead singer from some band and they name some obscure band that I've never heard of. I've also been told that I look like one of the Doctors from "Doctor Who."
What type of music do you unwind to? Classical.
Tell us a secret: I buy most of my clothes from Target.
Copyright 2018 The Lawrence Journal-World. All rights reserved. This material may not be published, broadcast, rewritten or redistributed. We strive to uphold our values for every story published.