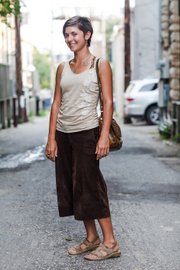 Name: Cassie Absher
Age: 26
Relationship status: In an open relationship
Hometown: Kansas City, Mo.
Time in Lawrence: Two years
Occupation: Geology student
Dream job: I want to be a middle school teacher.
What were you doing when scouted? Waiting for the next show at the Busker Festival with my best friend, Samia.
Describe your style: I don't really consider myself having a style. I just kinda wear a lot of earth tones, a lot of brown, animal prints and things that look organic.
Fashion trends you love: I really don't keep up with trends. I guess I like things that are comfortable and clothes that I can wear anywhere. I love animal prints and things that are earthy.
Fashion trends you hate: I don't like overly tight, tiny, revealing things on woman. I like classy things. Overall, I [respect] people's styles and their own self-expressions and whatever they want to wear.
Fashion influences: Whatever is at the thrift store.
What would you like to see more of in Lawrence? My friend Sami makes jewelry. I'd like see more people wearing her jewelry. She made these fabulous earrings that I'm wearing. I also like to see more events like the Busker Festival and people doing their thing.
Less of? Gratuitous public dressing.
Tattoos or piercings: I have around $3,000 worth of tattoos: lots of colored stars, a sun, a blue-ringed octopus, hearts and some carefully chosen words. I can't wait to get more.
Whom do people say you look like? Oh, gosh. I really don't know.
What type of music do you unwind to? I like indie rock, alternative, heavy metal, dance music, country ... and everything!
Tell us a secret: Deep down inside, everyone is a good person!
Copyright 2018 The Lawrence Journal-World. All rights reserved. This material may not be published, broadcast, rewritten or redistributed. We strive to uphold our values for every story published.